Hot Off the Presses – Major New Book ! ! !
CL Board member Rob Arner has authored an exciting new book for church audiences and those interested in one aspect of the consistent life ethic's ancient history: Consistently Pro-Life: The Ethics of Bloodshed in Ancient Christianity. He says "every author that I encountered from before Constantine seemed to denounce human bloodshed in a variety of contexts, from abortion, to killing in war, and everything in between, espousing and living what may be termed a consistently pro-life ethic. This project is my attempt to comprehensively flesh out this thesis." The book thoroughly documents how across-the-board opposition to violence was in early Christianity, including one long-gone practice we've thankfully never had to consider adding to our list of things to actively oppose – the bloody spectacle o ladiator games.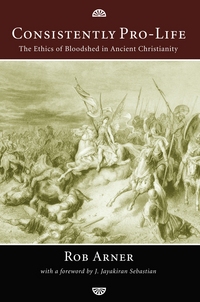 Consistent Life is of course a secular group that prides itself on its religious diversity, and we would be delighted to also report more documentation on the ample ancient Jewish and Hindu and Pythagorean roots for the consistent life ethic, some of which are detailed in Consistently Opposing Killing (keep an eye out for the announcement of the paperback version of this coming out soon).
Yet this book has special potential for the church audience, educating about the connections between issues of violence for Christians who would most appreciate an authoritative Christian approach.
We encourage supporters not only to buy and read the book, but consider which libraries, church study groups, and other venues might be able to make good use of it.
∞ ∞ ∞
Consistent Life Down Under
This last week CL Board member Rachel MacNair visited New Zealand. She spoke at a lively program of the Auckland Friends Meeting (Quakers) about the thesis that killing is traumatic to those who do it across all the socially-approved ways of doing it – combat veterans, executioners, abortion staff, etc. Daphne Clair De Jong, former president of Feminists for Life of New Zealand, also recorded a lengthy interview with her for local media. Both are shown in the photo below with post-interview sightseeing (Daphne on the left).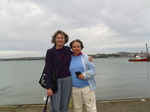 Quotation of the Week
Daphne Clair de Jong
"Feminism and Abortion: The Great Inconsistency"
reprinted in ProLife Feminism: Yesterday and Today
"In the same way that many opponents of slavery and racism have failed to apply their principles to the question of women's rights, so feminist writers have a peculiarly dense blind spot about the unborn. No argument in favour of freely available abortion is tenable in the light of feminist ideals and principles. And all of them bear an alarming resemblance to the arguments used by men to justify discrimination against women."