In the News –Hearings for Elena Kagan for U.S. Supreme Court
Having clerked for U.S. Supreme Court Justice Thurgood Marshall, there were times when Kagan distinguished her own views from his. On the death penalty, she said she had "no moral qualms" and that it was "settled precedent." Questioned about Marshall's approach to capital cases, she said Marshall believed "the death penalty was unconstitutional in all its applications," but also felt he had "a special role in each death penalty case to make sure that there were no special problems in the imposition of the death penalty." She apparently doesn't see such a role for hersef.
Meanwhile, the issue of how Kagan gave political spin on partial-birth abortion when she was acting as an official of the Clinton administration is better detailed by William Saletan than it was at the hearings. Saletan is not anti-abortion but does explore abortion issues with more insight than much of the media. He shows that when Kagan was meeting with doctors in order to aim for the conclusion that partial-birth abortions were sometimes medically necessary, she was given quite a few details about the procedure itself and the circumstances under which it could be done – yet remained impervious to how harsh this reality is.
∞ ∞ ∞
Member Groups Act: Pax Christi Film
Pax Christi is promoting "The Forgotten Bomb," a film by Bud Ryan, as part of its "New Moment for Nuclear Disarmament" campaign. See a trailer and information at www.forgottenbomb.com.
∞ ∞ ∞
CL at the International Peace Research Association (IPRA)
Rachel MacNair, the Director of our research arm (the Institute for Integrated Social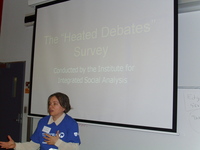 Analysis) presented on last year's "Heated Debates" survey this last week at the IPRA meeting in Australia in a session that roused quite a bit of discussion. This survey showed that people who oppose some kinds of violence and not others do rate the consistent life ethic and killing-as-trauma arguments as effective, though those who supported the pro-violence position across the board tended not to. Anyone interested in the PowerPoint or full paper on this can send a request to weekly@consistent-life.org. Stephen Zunes, co-editor of our book, Consistently Opposing Killing, was also active at the conference.
∞ ∞ ∞
Quotation of the Week
Scott Rains, disability-rights activist
"My own decision to become publicly active in the prolife movement was, I admit, rather selfish. I followed the news stories while a newborn child was starved at an Indiana hospital because he was born with Down's syndrome. The years I had spent fighting for federal architectural standards, for equal access and equal employment suddenly didn't make sense. If the new strategy was to eliminate those of us with disabilities at birth, then that was where I would stand up for our rights. . . . Having looked at the world with the perspective of a man with a physical disability, I saw an attitude - and a mechanism - of oppression, as tangible as racism, that held people like myself at the margins of society. . . If being open to the experience of one's disability can lead to action in the prolife movement, what about in the peace movement? A disabled veteran of Vietnam is not likely to have a romanticized idea of war. The disabled children of hibakusha (survivors of Hiroshima and Nagasaki) don't need to ask if it is a sin to build nuclear weapons."