Impact on Public Policy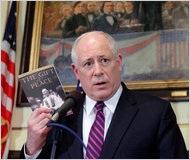 The
New York Times
reports
that when Governor Patrick Quinn of Illinois was contemplating whether or not to sign legislation to abolish the death penalty for his state last March 9, the idea of the consistent life ethic was on his mind. One of its most well-known and energetic exponents, Joseph Cardinal Bernardin, had been Archbishop of Chicago; Quinn is pictured here holding up Bernardin's final book,
The Gift of Peace
. (Thanks to subscriber
Jim Kelly
for bringing this to our attention).
∞ ∞ ∞
Web Links
Elliott Institute has created a 30-second video on the topic of unwanted abortions – when the decision is someone else's, not the mother's.
∞ ∞ ∞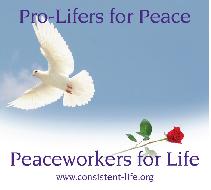 Growing Together
Remember that we're a community, not a top-down outfit, and we get our material for this weekly e-newsletter from readers sending in information to
weekly@consistent-life.org
. We also cheerfully accept
donations and individual memberships
. In addition, as a network of organizations, we have many
member groups
but can always use more. We'd like to expand the number of subscribers to the e-newsletter as well, and find that an effective way is to take our
sign-up sheet
to meetings, so we encourage you to do so. Also, feel free to forward e-newsletter issues on to people you know who might be interested.
∞ ∞ ∞
Quotation of the Week
Ginette Paris
The Sacrament of Abortion,
1992, 25-27
An abortion defender makes the connection between war and abortion.

"Men have the right to kill and destroy, and when the massacre is called a war they are paid to do it and honored for their actions. War is sanctified, even blessed by our religious leaders. But let a woman decide to abort a fetus . . . and people are shocked. What's really shocking is that a woman has the power to make a moral judgment that involves a choice of life or death. That power has been reserved for men . . . the ancient Goddess Artemis invites us to imagine a new allocation of life and death powers between men and women, an allocation that allows men to appreciate the cost of a life and women to make decisions based on their mother-knowledge."
(
In a 1986 book,
Pagan Meditations
, she says, "I believe it is time to sacrifice to Artemis the fetus to which we are not prepared to give the best." She's clear she's not speaking metaphorically.)