When Inconsistency is Attacked While Promoting It
Jon Stewart's program on the Comedy Central channel,
The Daily Show
, does comedy by acting as if it were a news program. While called "fake news," Stewart uses real news clips and skewers real hypocrisies. The March 30 episode showed Mississippi Governor Haley Barbour bragging about how new pro-life laws made his state the safest for unborn children. Stewart then asserted that Mississippi was ranked 50
th
out of 50 in the health care statistics for its born children. This picture was then put up to great applause for its wording – the inconsistency is stark, and the generally "pro-choice" audience loved to have it confronted.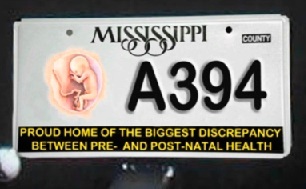 But note the picture they put on that license plate – the pre-natal child. Consistency, by definition, goes both ways, and must therefore be confronted in both directions. The obvious way – and the only way – to avoid heartless inconsistency is to provide good health care for everyone, born and unborn, child and adult.


∞ ∞ ∞
Spread the Word - Cool Stuff
Remember
we have products
ranging from t-shirts and other shirts in various colors, buttons and bumper stickers, notecards, caps, mugs, and even baby clothes and bibs that have a variety of sayings for conversation-starters. In addition to being available for sale, individually and in bulk for re-sale as fundraisers, some of them can make good graphics for publications, just like we're doing here. Café Press is a print-on-demand outfit, so they'll make the order once you place it.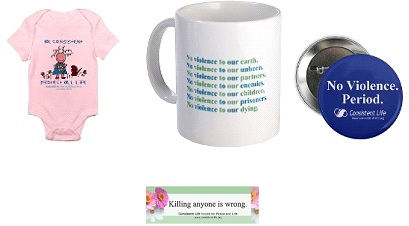 ∞ ∞ ∞
Cool Stuff from Elsewhere

Thanks to subscriber Sherry Thackrey for sending in this
t-shirt available from a pro-life site
:
This gray T-shirt proclaims "Social Justice for All" and "Neither race, strength, residence, size nor ability should determine a person's right to life."
∞ ∞ ∞
Mother Love
CL Board member Rob Arner sends
this link to a story
of a mother who values her special needs children – conjoined twins – and struggles to get them the best when much of society and the medical establishment urges her to let them die.
∞ ∞ ∞
Quotation of the Week
Nat Hentoff, columnist
speech to the Americans United for Life Forum in Chicago on October 18, 1986 (condensed)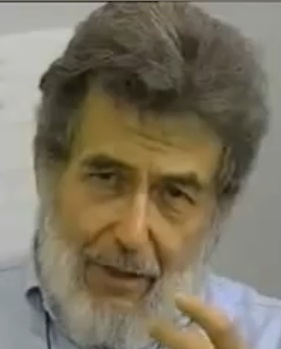 I remain an atheist,a Jewish atheist. For me, this transformation started with the reporting I did on the Babies Doe. While covering the story, I came across a number who were convinced that making it possible for a spina bifida or a Down's syndrome infant to die was the equivalent of what they called "late abortion." These infants were
born.
They were entitled to at least the same rights as people on death row – due process, equal protection of the law. So for the first time, I began to pay attention to the "slippery slope" warnings of pro-lifers. And I began to find out, in a different way, how the stereotypes about pro-lifers work. When you're one of them and you read about the stereotypes, you get a sort of different perspective.