Delving Deeper: War of Words
Throughout history dehumanizing language has been used to justify violence against the targets; William Brennan documents this at length in his book
Dehumanizing the Vulnerable: When Word Games Take Lives
(the first chapter of which is reprinted in
Consistently Opposing Killing
). Brennan refers to multiple categories of this dehumanizing language.
Under the category of "non-persons," for example Brennan cites for women: "The statutory word 'person' did not in these circumstances include women." (
British voting rights case, 1909)
. For children, it was stated in
Roe v. Wade
: "The word 'person' as used in the 14
th
Amendment does not include the unborn." Now we can add a far more recent example: Judge Karen Lecraft Henderson wrote that Guantanamo detainees were not "persons" for purposes of U.S. law in
Rusal v. Rumsfeld,
January 11, 2008.
Another category is to regard people as diseases, as when the ancient Greek poet Semonides referred to women as "the worst plague Zeus has made." In 1979, Professor Joseph Fletcher dismisses unborn children with the statement that "Pregnancy when not wanted is a disease . . . in fact, a venereal disease." Since Brennan's book, we can add another statement found on several web sites starting around 2006: "The Bubonic plague physically killed 25 million people . . . Islam is a more serious illness, which has mentally infected about 1 billion people." You can google "The Bubonic plague physically killed" to get a list of such websites.
∞ ∞ ∞
Upcoming Program for Quakers
CL member group
Friends Witness for a Prolife Peace Testimony
is a Quaker group that will sponsor a two-hour workshop associated with a major national gathering of Quakers (Friends General Conference) on July 2 in Grinell Iowa. It's entitled "Rethinking Abortion: The Consistent Life Ethic, Pro-life Feminism, and Other Innovations." Those wanting more information can inquire at
clerk@prolifequakers.org
.
∞ ∞ ∞
Peace in the UK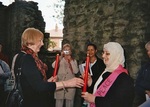 CL Advisory Board member Veronica Whitty sends word from the UK that the second joint Christian/Muslim women`s event to pray for peace took place at the ancient chapel to Mary in Jesmond, Newcastle-Upon-Tyne on Saturday, May 7th, 2011. Mary, the mother of Jesus, has a place in the
Qur'an
as well as the New Testament, and so serves as a unifier. Forty-eight women and two children offered heart-felt prayers for the protection of those in danger from conflicts.
∞ ∞ ∞
William Brennan
Dehumanizing the Vulnerable
: When Word Games Take Lives
"One of the most remarkable features of anti-life rhetoric is the sheer consistency and stability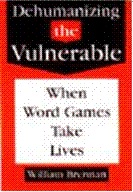 underlying the denigrating concepts that engulf a wide variety of people rendered expendable. While the range of victims has fluctuated down through the years, the semantic assaults against them have remained stubbornly constant.
Any war, whether semantic or otherwise, requires an identifiable enemy upon whom to impose the derogatory labels. At one time or another almost every imaginable racial, ethnic, religious, age, and social group has suffered the consequences of linguistic abuse . . . the unborn, the dependent and/or disabled, women, those exterminated in the Nazi Holocaust (primarily Jews, but also Gypsies, Germans with disabilities, Poles, and "asocials"), the targets of Soviet tyranny, African Americans, and Native Americans."