Russian Pro-lifers to Launch Women's Health Clinics

Jim Forest sends this news from Ecumenical News International, July 1, 2011, written by Sophia Kishkovsky: "A Russian pro-life organization is about to launch a network of clinics offering pre- and post-natal care while excluding procedures such as abortion . . . The Life-Family Medical Centers Network will be run on a franchise basis under the auspices of "Za Zhizn" ("For Life") . . . applications to join the project have already come in from 30 cities. Muslims and Jews who are against abortion will also be welcome . . . Russia has one of the highest abortion rates in the world, and pro-lifers say women are often pushed into having them. Doctors who had to leave state or private clinics because they refused to perform abortions would be hired by the Life-Family Medical Centers."
International cooperation benefitting this effort includes U.S. organizations, something not workable in Soviet Union days – showing this as yet another positive benefit of the end of the Cold War.
∞ ∞ ∞
Starvin' for Justice 2011
CL Board member Tony Masalonis, CL member group Dorothy Day Catholic Worker, and other CL members and supporters participated in the 18th Annual "
Starvin' for Justice
"4-day fast and vigil for death penalty abolition, June 29 - July 2. Participants fasted and held a peaceful witness in front of the U.S. Supreme Court building, with nightly teach-ins. Highlights: cleared death row prisoners sharing their stories; Jane Henderson (Executive Director of Maryland Citizens Against State Executions) speaking of how the high taxpayer cost of capital punishment - due largely to state expenditures to attempt to change juries' life sentence verdicts to death - steals from the poor; Honorable Michael G. Summers (Maryland House of Delegates) drawing connections between capital punishment and racism; and a gripping talk by CL endorser Bill Pelke (Murder Victims' Families for Reconciliation) about forgiving his grandmother's killer.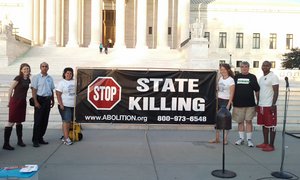 Left: Elizabeth Palmberg, Tony Masalonis, Amber Mason,
Right: Shannon Hughes, Bill Pelke, Kevin Mason

∞ ∞ ∞
Quakers National Gathering
A branch of Friends (Quakers) holds an annual national gathering of about 1,000 people, and this year CL member group
Friends Witness for a Pro-life Peace Testimony
had an exhibit. Also available on consignment for sale in the bookstore were
Consistently Opposing Killing
,
ProLife Feminism: Yesterday and Today
, and
Achieving Peace in the Abortion War
. The exhibit included a notebook with blank paper and a sign inviting people to write down their reflections and experiences; these are
now up on the web
. As is customary in any peace-movement-oriented group of this size, there is much vitriol against our viewpoint, but also some heartfelt comments of abortion opponents.
Left: The 2011 Gathering's logo. Right: Logo of Friends Witness for a Pro-life Peace Testimony

∞ ∞ ∞

Quotation of the Week
Gaudium et Spes, 24 (official Catholic document)

"Furthermore, whatever is opposed to life itself, such as any type of murder, genocide, abortion, euthanasia, or willful self-destruction, whatever violates the integrity of the human person, such as mutilation, torments inflicted on the body or mind, attempts to coerce the will itself; whatever insults human dignity, such as subhuman living conditions, arbitrary imprisonment, deportation, slavery, prostitution, the selling of women and children; as well as disgraceful working conditions, where [people] are treated as mere tools for profit, rather than as free and responsible persons; all these things and others of their like are infamies indeed. They poison human society, but they do more harm to those who practice them than those who suffer from the injury."