Rest in Peace: Mark Hatfield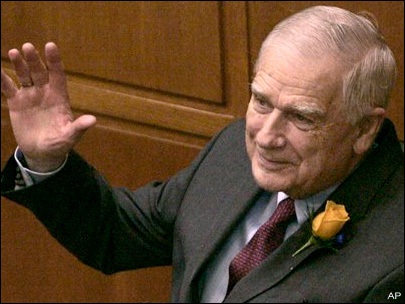 Former U.S. Senator Mark Hatfield (Republican of Oregon)
passed away on August 7
, age 89. From CL Board member Carol Crossed: "Senator Mark Hatfield was the featured speaker at the Consistent Life Ethic A Reality (CLEAR) Conference at the University of Rochester in 1988. As a co-sponsor of the Nuclear Freeze and the Human Life Amendment, he wowed participants with his CLEAR vision and the application of it in politics. He was honored to play a small roll in educating the public about the connections of violence in a world fragmented by his colleagues in office." CL President Bill Samuel observes: "Mark Hatfield was anti-war, anti-abortion and anti-death penalty. He was the most prominent American CLE politician of the 20th century, and a great statesman, a man of principle. IMHO, he was the most admirable statesman during my lifetime."
∞ ∞ ∞
More Happenings in U.S. Health Care Reform

During last year's health care debate, the pro-life Stupak Amendment didn't make the final bill, but Rep. Bart Stupak negotiated the equivalent in an Executive Order. Many pro-lifers attacked this as inadequate and asserted abortion funding was in the bill – using reasoning courts have used in the past. We have been badly burned by courts with poor reasoning abilities, so many pro-lifers were naturally suspicious based on bitter experience.
But in an August 1 court ruling, federal judge Timothy S. Black held that abortion funding isn't in the bill. Publicity on the ruling showed we've made progress -- a widespread understanding that taxpayer funding should be avoided. Perhaps judicial reasoning is improving; we can always hope.

Meanwhile, one positive note in recently-issued regulations is that domestic abuse screening and counseling are covered without co-pay under standard insurance. This will likely have abortion-prevention effects. Domestic abuse is an especially vicious form of causing pregnancies for which abortions are considered, and it's used to pressure and coerce women into abortions.

∞ ∞ ∞
On-line Radio Interview: Jen Roth and Pro-life Atheism
Adding to our
list of on-line radio resources
and its admirable diversity, CL Advisory Board member Jen Roth has an
interview on Life Report
.
∞ ∞ ∞
September 11 Anniversary Coming Up
Brown University has
a new study
indicating the cost of the post-9/11 wars at 225,000 lives and up to $4 trillion for the U.S. That monetary cost also means more lives lost indirectly as social programs for the poor and abortion-prevention programs face slashes to reduce budget deficits.
The U.S. response is in stark contrast to the more commendable
Norwegian reaction
to its recent terrorist attack.
CL Endorser John Dear
offers this call to witness
: "the US military and its media machine will tell us to mark the tenth anniversary of the September 11th attacks by celebrating their warmaking efforts – and continuing to live in fear . . . The Sept. 11 anniversary and the tenth anniversary of the U.S. war on Afghanistan Oct. 6 offer an opportunity. . . I invite everyone to ponder and plan some public action for peace during those anniversary days."
∞ ∞ ∞
Quotation of the Week
Mark Shea
National Catholic Register
, September 2, 2010
[
Note: This is sarcastic; Shea is supporting our position.
]
"How can somebody be opposed to abortion and, at the same time, to the death penalty? Indeed, that is mysterious. It's like being opposed to tyranny while simultaneously favoring freedom. It's like enjoying exercise while simultaneously appreciating fresh air. . . . Or singing both the words and the tune. Who can account for such a complete contradiction?"