Resources on Connection of Abortion and Racism


The
Radiance Foundation
puts out billboards such as those pictured above – which stir controversy and censorship – and has an excellent one-minute video called
"Epidemic."
Its web page has quite a bit of information and educational resources.

Meanwhile, a
new report
offers evidence of racial targeting by clinics that do or refer for abortions. They take the zip codes in which there are such clinics – one set of figures for Planned Parenthood, another for independent free-standing clinics – and compare the Census's percentage of African-Americans in that zip code with that of its state as a whole; they do the same for Hispanics. The raw data in charts helps document that this is a very real concern.
∞ ∞ ∞
Grim Reaper Connects Issues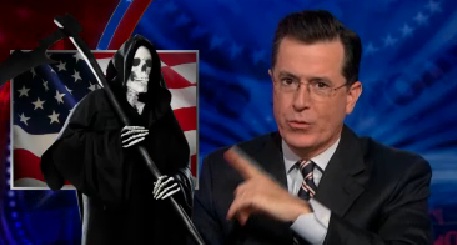 Comedian Stephen Colbert comments sarcastically on the applause at two times in the Republican debates – at 234 executions in Texas, and whether what we should do with man with who chose not to get insurance has an accident and is in a coma is "let him die":
"Nation, these debates are supposed to help us find the Republican presidential candidate, but they have already helped them find his running mate: the Grim Reaper. . . . he's packing a weapon, he's got an incredible war record . . . Plus, he is a close second to Rick Perry in executions."
Euthanasia advocates try to make the case that death is compassionate, but letting someone die for the not-illegal offense of choosing not to have insurance gives no pretense of being anything other than hard-hearted. Pro-lifers have historically included opposition to euthanasia as connected to their opposition to abortion. Yet once applause and cheering for a high number of executions is allowed, and none of the candidates object, a deterioration down to cheering casual euthanasia can come as part of a slippery slope. We hope that Republicans of more tender conscience are given the opportunity they need to counter the applauding of killing and can keep it from sliding down further.
∞ ∞ ∞
Quotation of the Week
Allen Ault – Retired Warden of the Georgia prison in which Troy Davis was held, and five other retired prison officials
Excerpted from a letter to Georgia officials before the execution of Troy Davis on September 21, 2011. This is fresh evidence of the psychological aftermath of killing on those who do it, with advocacy for allowing conscientious objection.
"We write to you as former wardens and corrections officials who have had direct involvement in executions.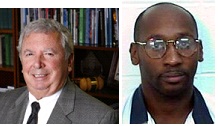 Like few others in this country, we understand . . . from our own personal experiences the awful lifelong repercussions that come from participating in the execution of prisoners . . . Living with the nightmares is something that we know from experience . . . we urge you to unburden yourselves and your staff from the pain of participating in such a questionable execution to the extent possible by allowing any personnel so inclined to opt-out of activities related to the execution of Troy Anthony Davis. Further, we urge you to provide appropriate counseling to personnel who do choose to perform their job functions related to the execution."