Consistent Life Ethic Youth Activist to Speak at 25th Anniversary Conference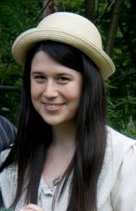 The future of our movement will depend on the youth. We're happy to announce that Aimee Bedoy, probably the leading CLE youth activist in the United States, has agreed to speak at
our 25th Anniversary Conference
,
March 9-11, 2012
, Chevy Chase, MD. While a student at Carnegie-Mellon University, she was instrumental in transforming the student pro-life organization into a group speaking to a range of life issues to reach secular students as well as students from various faith traditions. Following her graduation, she conceived the idea of
Life Matters Journal
as an outreach particularly to youth.
The first issue
included essays by CL President Bill Samuel and Advisory Board member Mary Krane Derr. Aimee is eager to encourage students to attend our conference.
∞ ∞ ∞
Invest in the Consistent Life Ethic
You don't get a lot of fund appeals from us. No paid fundraising company will phone you. But we do need money to further the consistent life ethic, such as exhibiting at conferences, running ads, and making our 25th Anniversary Conference a true outreach opportunity. If you believe in the importance of furthering respect for the dignity of each human life, you can invest in nonviolent approaches by contributing to Consistent Life. Our
Donations Page
has several ways you can be a part of this cause.
∞ ∞ ∞
Latinos Targeted
"Somos Republicans" has asked pro-life groups for support on opposing dehumanizing language in their press release of October 19: "It comes with great sorrow to see supposed pro-life Republicans . . . use defamatory terms like 'anchor baby.' Since when do Republicans claiming to be pro-life use a demeaning and derogatory term in connection with a baby? For Conservatives to associate such demeaning terms in connection with precious life is absolutely unconscionable."
It got worse with the news of this last week, as Republican candidate
Herman Cain advocated
a border fence: "We'll have a real fence, 20 feet high, with barbed wire,
electrified
[applause], with a sign on the other side that says
'It can kill you'
. . . I'm not worried about being insensitive to tell people to stop sneaking into America."
Such words will make it rather difficult to convince people that his anti-abortion stand is a genuine concern for human life.
∞ ∞ ∞
Current Movie: Ides of March
This Hollywood movie is a biting satire on hypocrisy in presidential campaigns; the discerning viewer can see the road to lethal results when the candidate gets power. Here direct lethal results come earlier, during the candidacy: in the presence of the normal "women's-right-to-choose" rhetoric, in painful contrast powerful men manipulate a young woman into pregnancy and then abortion. With the candidate being the father, it could be foreseen the baby would be doomed unless the mother rebels. In this case, after the abortion she commits suicide, which becomes an occasion for yet more power games. Despite the movie featuring many actors and real-life pundits known to take the "pro-choice" position, the dynamics of abortion as violence connected to a sea of violence are clearly portrayed.

In this scene, a campaign staffer insists on abortion as a cover-up and drives the mother to the clinic – in his view, she has no say.
∞ ∞ ∞
Quotation of the Week
Mother Teresa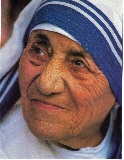 "Any country that accepts abortion, is not teaching its people to love, but to use any violence to get what it wants."