Elections: Personhood Amendment in Mississippi

For U.S. elections November 8, the only major election on any CL issues was the Mississippi Personhood Amendment, which failed with about 55% voting no. This was actually a controversial strategy within the pro-life movement, with some saying it was unwise for litigation purposes.
As for strategic considerations, Consistent Life's position is that we favor all strategies that are nonviolent and honest. While we also obviously prefer effective strategies to non-effective ones, we know that people of good will argue about which are which, and generally won't enter such arguments unless matters of consistency or understanding connections of issues are involved.

∞ ∞ ∞
Elections: New Nuclear Weapons
The federal government is planning three new nuclear plants which could make new weapons for decades to come. Aren't we cutting down on the numbers of nuclear weapons? Yes, but rather than adding to a stockpile we're still replacing old ones with new ones. Old ones lose their reliability – yet "reliability" only matters
if they're used
. A society with millions of small children deliberately killed one by one is still contemplating weapons that can kill millions in a matter of seconds. The other plants are still being planned, but the one in Kansas City is about half built.

Ed Ford, the one councilmember of conscience on this issue,
argues for the previous initiative at a Council session.
During planning stages, the City Council was so concerned about losing the new plant and jobs to Albuquerque that they made a sweet deal – they put up municipal bonds, gave tax abatements, and have it owned by a local agency for economic development.
This has given local antinuclear activists a chance to go to city voters, and petition signatures on
two initiatives
for the ballot are scheduled to be turned in on Monday, November 14. The petition coordinator for this campaign is CL vice-president Rachel MacNair, also editor of
Peace & Life Connections
. One initiative addresses the financing, and the other calls for conversion plans. Both are a follow-up to an initiative calling outright for the conversion of the plant to something like renewable energy products, which needed to be reworked for the current effort.
∞ ∞ ∞
Academic Resource: Center for Global Nonkilling
The
Center for Global Nonkilling
gathers scholarship from various different academic disciplines on the idea of moving toward a non-killing society. They say: "Are killing-free societies possible?Evidence suggests that by working with committed organizations, leaders and individuals like you we can significantly reduce and eventually eliminate human killing. This goal belongs to everyone, across political, religious or ethnic affiliations. The development of truly civil societies, and nothing less than the future of humankind, depends on our joint success." Among their
many books from different disciplines
, the multidisciplinary one called
Toward a Nonkilling Paradigm
is available in pdf on the web and includes a chapter from CL's own Rachel MacNair. She explores the connections between all the different kinds of killing as a consistent-ethic person would naturally do, and gives an overview of this from psychology.

∞ ∞ ∞
Quotation of the Week
Terri Herring
(pictured speaking)
Discussing the Nov. 8 Mississippi "personhood amendment" ballot measure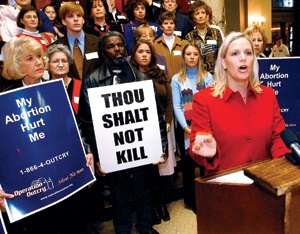 "In Mississippi, we have the opportunity to lead the way on a social justice issue. We may have been behind on civil rights, but we can be ahead on human rights, and that's what personhood is really all about."