Action Opportunity: Apps for Abortion "Services"
While change.org offers a good variety of petitions for peace and social justice, it's unfortunately subject to the same rampant inconsistency that we commonly find. It now has a petition asserting that the Siri app for Apple can tell you all kinds of things, including where to hide a dead body, but won't give information on where to find abortions – or rape or domestic abuse help. (Actually, the app apparently does give such information in some places, but is spotty.)
They definitely should cover where to go immediately for help after a rape or domestic abuse; these are crisis situations where quick timing is essential and getting to the right place quickly could make a huge life-saving difference.
We encourage you to send direct emails or call to tell these online petition receivers that you do want them to be thorough about putting in places for help on rape and domestic abuse, but that there are customers offended by the idea of them facilitating more widespread abortion. Other media outlets have picked up the abortion clinics story, and new things might have happened on the rape and domestic abuse help, so inquiries rather than assertions would probably be most helpful. Media Relations people who were sent the petition are:
Teresa Brewer
tbrewer@apple.com
(408) 974-6851
Katie Cotton
katiec@apple.com
(408) 974-7269
Steve Dowling
dowling@apple.com
(408) 974-1896
Natalie Harrison
harri@apple.com
(408) 974-1896
Phone numbers are in California (Pacific Time Zone)
If you'd like to have a word with the change.org people about offering such a petition, they would probably be more impressed by consistent-life reasoning than other kinds of pro-life reasoning: "Shelby Knox, Change.org" <mail@change.org>

∞ ∞ ∞
Gift-Giving Season
Remember if you have that special someone that might enjoy shirts, mugs, cards, baby outfits, caps, refrigerator magnets and similar things with positive consistent-life messages, we have those at Café Press (www.cafepress.com/lifecounts). Because these are made at time of order rather than being stocked, you'll want to allow extra time – so now's the time to peruse and order!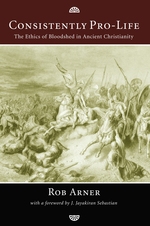 Remember also the books for giving (and these will be in stock): Consistently Opposing Killing: From Abortion to Infanticide, the Death Penalty, and War (both hardback and paperback), and Consistently Pro-Life: The Ethics of Bloodshed in Ancient Christianity.


∞ ∞ ∞
Quotation of the Week
Robert Arner,
Consistently Pro-Life: The Ethics of Bloodshed in Ancient Christianity
"In this study, I have traced the ethic of the pre-Constantinian church through a series of individual moral issues related to the taking of human life, and have found that, without exception, the church strongly condemned the taking of human life in any form whatsoever. Neither homicide, nor feticide, nor infanticide, nor suicide, nor capital punishment, nor killing in war were considered acceptable to a church fiercely committed to following the teaching and moral example of the incarnate Lord."