Worship Opportunities
Added at Conference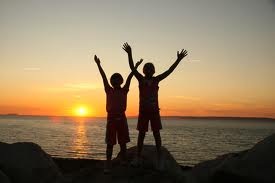 We have added on-site worship opportunities at our
25th Anniversary Conference
Sunday Morning, March 11. Catholic mass will be celebrated by Fr. Jim Noonan, M.M. of the Assisi Community in Washington, DC, a monastic-style community where the majority of members are not part of religious orders. The Community emphasizes a simple lifestyle and work for social change. CL Board member and seminarian Rob Arner will give the message at a Protestant service. Rob is the author of
Consistently Pro-Life: The Ethics of Bloodshed in Ancient Christianity
. A room will be available for informal discussion for those of other faiths or no faith who do not wish to attend one of the worship services. Following the worship time, all will gather for a time of sharing of how and why people came to embrace the consistent life ethic. People not registered for the Conference will be welcome to join us on Sunday morning.
We can still accept registrations for the Conference, but please get them in as soon as possible. Folks who cannot attend the full Conference are welcome to attend portions without paying the full registration fee.
∞ ∞ ∞
Our Friend Daniel Berrigan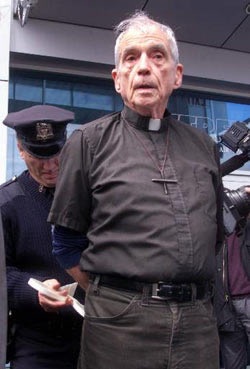 Daniel Berrigan, SJ, is a most beloved CL endorser and advocate. He is best known for his anti-war and anti-nuclear actions, but he has always connected the issues and spoken out for all; see quotes in our
issue 15
and
issue 81
. He's gone to jail both protesting weapons factories and abortion clinics. "I have always made it clear," he said, "that I am against everything from war to abortion to euthanasia."
Now he is almost 91 years old. On January 29, Pax Christi Metro New York organized a tribute to his life and work. A host of speakers recalled his life and quoted many of his own words. Frail and leaning on his niece's arm, he made his way to the podium and spoke. He said, "Continue to resist death and say yes to life." CL is deeply grateful for the life and work of this wonderful man.
∞ ∞ ∞
Quotation of the Week
Mary Meehan,
America
Magazine, November 20, 1982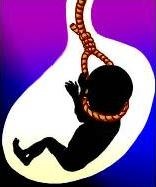 Leszek Syski is a Maryland antiabortion activist who says that he "became convinced that the question of whether or not murderers deserve to die is the wrong one. The real question is whether other humans have a right to kill them." He concluded that they do not after conversations with an opponent of
capital punishment
who asked, "Why don't we torture prisoners? Torturing them is less than killing them." Mr. Syski believes that "torture is dehumanizing, but capital punishment is the essence of dehumanization."
(
Thanks to subscriber Edward Chow for sending this in. Please remember to send in good quotes you come across to
weekly@consistent-life.org
)