Get clothing, buttons, bumper stickers, magnets, mugs and cards promoting a consistent life ethic at the CL Online Store



Loading




Peace & Life Connections #104 - April 6, 2012
Life Matters Journal – Third Issue Now Out
Excellent as always,
the third issue
includes: Jen Roth on justice for Trayvon Martin and his parents; Nick Neal on the case against war with Iran; Julia Smucker on how racism connects abortion and the military; Mary Krane Derr on the history of how Susan B. Anthony and other strong-willed women were "slut-shamed" in a long tradition of polemic never based on reality; fiction and poetry; and Aimee Bedoy offers a thoughtful opinion piece on the roles pragmatism versus idealism play in social movements.
∞ ∞ ∞
Conference Videos Start Going Online
On
our youtube channel
we now have up:
Serrin Foster
, president of Feminists for Life of America (pictured left) and
Dr. Catherine Meeks
presenting on "C.L.E.A.R. – Consistent Life a Reality" (pictured right). Serrin spoke of how women the world over are being victimized as women in such outrages as sexual trafficking and similar violence, and how abortion fits in as part of that violence. Catherine spoke powerfully on the lethal violence of racism; her own brother died as a child of a condition that he would have survived if the nearby hospital had been willing to treat black people.
We also have
PowerPoints and PDFs
of several presentations up. More will be added as they come in.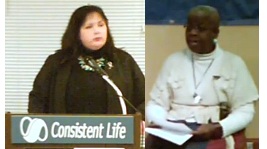 ∞ ∞ ∞
Quotation of the Week
William Penn, early Quaker and founder of Pennsylvania, from
Some Fruits of Solitude
, 1682
Editor's note: though he uses the gender non-inclusive wording common to his times, Quakers were advocates of gender equality even this early.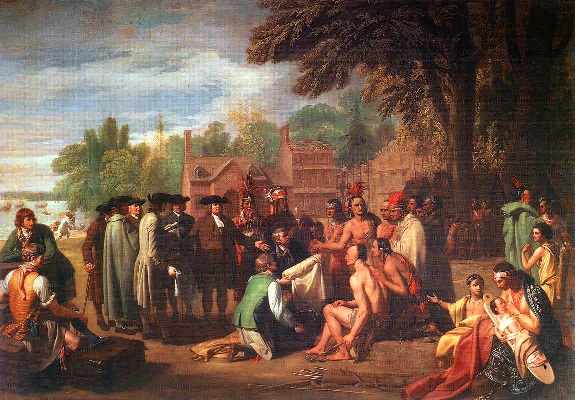 "A good end cannot sanctify evil means; nor must we ever do evil, that good may come of it. . . To do evil that good may come of it is for bunglers in politics as well as morals . . . We are too ready to retaliate, rather than forgive. . . And yet we could hurt no man that we believe loves us. Let us try then what love will do: for if men did once see we love them, we should soon find they would not harm us. Force may subdue, but Love gains: and he that forgives first, wins the laurel."