Get clothing, buttons, bumper stickers, magnets, mugs and cards promoting a consistent life ethic at the CL Online Store



Loading




Peace & Life Connections #105 - April 13, 2012
Nuclear Weapons – at the City Level!

Local city politics has offered an opportunity for an initiative petition campaign in Kansas City, Missouri, in which CL vice-president Rachel MacNair is active. To avoid moving a replacement for the old nuclear weapons parts plant to Albuquerque, the City Council arranged for some peculiar financing. So city elections become a strategy that can be used for public awareness. See www.foolish-investment.com for details, and please send any Kansas City area friends you have there. If all goes well, this could be on the ballot for city voters this November.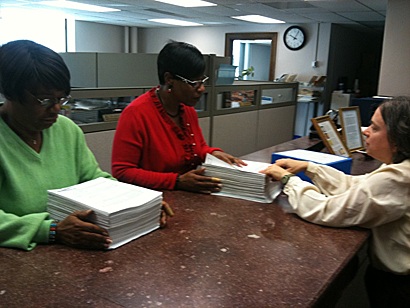 The main pusher of this new plant on the Council, John Sharp, is actually fairly good on a number of other issues – particularly, opposing abortion. Rachel was able to use this point as a commonality between her and him in making friendly conversation – and making friendly conversation is a way of building bridges that get us closer to a nonviolent world.




Top: Rachel MacNair (right) turns in two sets of petitions to city clerk Vicki Thompson-Carr (middle)
Bottom: John Sharp, standing, speaks to the full Council

∞ ∞ ∞

Late-breaking News: More Death Penalty Abolition
The legislature of the U.S. state of Connecticut has just abolished the death penalty (except for the 11 men currently on death row). Governor Dannel Malloy will sign it, being a strong support of abolition as he asserts in
this interview
.
∞ ∞ ∞
United States Election Referenda 2012
We know there is a good likelihood there will be state or city-wide measures addressing abortion, the death penalty, poverty, and the war on drugs (with all the killings happening, this is a real war, not a metaphor). As for our other issues, racism is mainly covered under immigration referenda, euthanasia could come up though instances are currently unknown, and military spending and wars other than the drug war are generally not covered in local elections – though the above story shows that they could be.
We're expecting to do a special election issue right before the November elections to let readers know what would be of most interest to look for, and of course a post-election issue to tell you how those came out. Please be sure to let us know what local referenda may be of interest –
weekly@consistent-life.org
.
Meanwhile, for our subscribers outside the U.S., please let us know of any elections of interest in your areas as well, so we can cover them as news items.
∞ ∞ ∞
United States Election Candidates 2012
Supporters of the consistent life ethic rarely have an opportunity to vote for a suitable candidate. Some pick the lesser evil using different criteria for what's lesser, and others vote third-party, do a write-in, or skip that part of the ballot entirely. The consistent life ethic, contrary to what is said by people who use the idea to counter single-issue voting, is not a voting strategy at all, unless there's a fully consistent-life candidate. Instead, it serves as a
challenge
to inconsistent candidates: if you're good on these other issues, why don't you apply the same principles to this one as well?
Candidates who connect issues of opposition to violence come from a variety of ideological, faith and party perspectives. They include liberal Democrats (such as Congressional candidate
Anne Nolan
), Catholic social doctrine advocates (such as independent Presidential candidate
Joe Schriner
), those with a libertarian orientation (such as Republican Presidential candidate
Ron Paul
), and political progressives (such as former Green Party Congressional candidate
Sheldon Schafer
).
∞ ∞ ∞
Quotation of the Week
Ellen McCormack,
Democrat Party Presidential candidate, 1976
"She's Running 'To Defend the Unborn,'"
San Francisco Sunday Examiner & Chronicle
, 29 Feb. 1976, A-13.
"Abortion is put forth as a solution for the poor, but I think the poor want better housing, more jobs and food on their tables. I don't think aborting their babies makes them any happier. I think it probably contributes to their misery."