Our Research Arm: Institute for Integrated Social Analysis

While not quite as well-endowed as Planned Parenthood's research arm, the Alan Guttmacher Institute, Consistent Life does in fact have its own research arm – the Institute for Integrated Social Analysis. Our "heated debates survey" was reported in our book, Consistently Opposing Killing: From Abortion to Assisted Suicide, the Death Penalty, and War (Praeger, 2008). We have more potential studies in the offing. We also serve as a network of scholars to assist in promoting research, and we promote the consistent life ethic in academia and at academic conferences. The director, Rachel MacNair, is also active in and now President-Elect of the peace psychology division of the American Psychological Association. This position gives her a good vantage point from which to influence this professional organization, which suffers from an inadequate approach to post-abortion mental health studies and problems on the issue of psychologists involvement with torture.
Anyone interested in being on the listserv of scholars promoting the consistent life ethic can send an email to iisa@consistent-life.org.


∞ ∞ ∞

Products to Spread the Message

Hot off the presses, as soon as you order them –

made-on-demand items

ranging from bumper stickers and buttons, mugs and magnets, t-shirts and baby clothes, bags and cards – see the full line. You can order for yourself, for gifts, or in bulk to share or sell.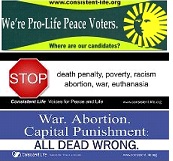 ∞ ∞ ∞

Set of Quotations for the Week: Post-killing Trauma


Abortion
Sallie Tisdale, abortion nurse, "We Do Abortions Here. Harper's, October, 1987, pp. 66-70.

"I have fetus dreams, we all do here: dreams of abortions one after the other; of buckets of blood splashed on the walls; trees full of crawling fetuses. I dreamed that two men grabbed me and began to drag me away. 'Let's do an abortion,' they said with a sickening leer, and I began to scream, plunged into a vision of sucking, scraping pain..."


Executions
Former Canadian executioner John Robert Radclive
Quoted in Robert Johnson, Death Work: A Study of the Modern Execution Process, 1998, p. 190.

"Now at night when I lie down, I start up with a roar as victim after victim comes up before me. I can see them on the trap, waiting a second before they face their Maker. They haunt me and taunt me until I am nearly crazy with an unearthly fear."


Euthanasia
Anonymous Dutch doctor, speaking of euthanasia cases
Quoted in Herber Hendin, Seduced by Death: Doctors, Patients, and the Dutch Cure, 1997. p. 52.


" I don't sleep for the week after."



Post-war trauma is of course extensive and was the original source for developing the idea of Posttraumatic Stress Disorder.