Consistent Life Ethic Candidate – Anne Nolan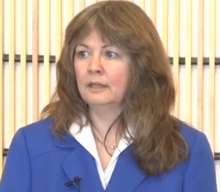 Consistent Life makes no official endorsements but does offer information about candidates.
Anne Nolan
is running for the Democratic nomination for the U.S. House of Representatives in the sixth district of Minnesota, now represented by Michelle Bachmann.
Nolan says
on her campaign Web site:
"Anne Nolan is a pro-life, social justice Democrat. While her consistent life ethic principles are rooted in Catholic social teaching, her pro-life convictions are motivated by the personal experience of seeing her three children on ultrasound from heartbeat stage to full-term."
Whether she is the Democratic candidate will be decided at an April 14 Democratic convention.
∞ ∞ ∞
Legislation and Regulation
Pieces of legislation tend to be single-issue without making connections, so we don't often cover these. We assume subscribers interested in individual issues are keeping up with these elsewhere. But there are two that are particularly timely:
Health Care Regulations – Time to Comment
The
final rule
for the Exchanges under the
Patient and Affordable Care Act
is now open for public comment (as of March 27).
Comments are due by May 11
.
Concerns have been raised that where there is a $1 per month rider for abortion, it will apparently only be disclosed to enrollees at the beginning, and collected without an itemized premium bill. Therefore, some women could be caught in an accounting gimmick, paying for abortion without realizing it. Commented Serrin Foster, president of CL member group
Feminists for Life
: "If abortion was such a great thing, why keep this coverage such a secret?" But from wars to torture to drone assassinations, it's a common practice to keep violence secret.
Our member group
Democrats for Life
has a different take on the effect of the $1 per month riders: that these will be too burdensome and many insurance companies who offer abortion coverage now will accordingly drop it.
Nuclear Weapons – The SANE Act
H.R. 3974
, the Smarter Approach to Nuclear Expenditures Act of 2012, was introduced February 8 by Rep. Ed Markey. It's currently collecting co-sponsors, so if you have a Representative who might, you could encourage him or her. The bill is flawed in specifying numbers of nuclear weapons to keep for the time being, but it would cut new expenditures and turn around the direction of nuclear weapons policy.
As Markey said
when introducing it, "America's nuclear weapons budget is locked into a Cold War time machine . . . let's cut
new
nuclear weapons – not the poor, the sick, the children, and the elderly of our country."
∞ ∞ ∞
Signs of Humanizing
In a
March 3 skit
on Saturday Night Live's
Weekend Update
, Seth Meyers had a picture of Snooki above him and then, to audience delight, it changed to the picture below at the word "this":
"Jersey Shore star Snooki is reportedly pregnant and insiders are extremely concerned how this will affect her upcoming spin-off series with JWOWW. But no one is more concerned about Snooki's pregnancy than
this
insider."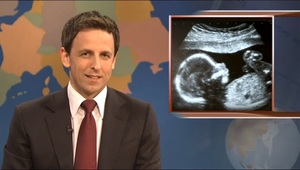 Seth Meyers with clear sonogram photo of the most concerned insider
∞ ∞ ∞
Quotation of the Week
Juli Loesch (aka Julianne Wiley)
"Shake Hands with a Prolife Peacemaker,"
U.S. Catholic
, May 1984
Note: Last week we had the first part of the quotation, appealing to prolifers with the peace message. Here we finish the thought with appealing to peace people.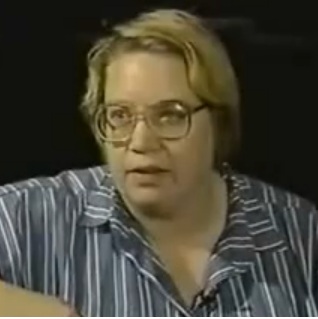 "You can talk about the many effects of dehumanization in our language. There's the gooks, the japs, the huns, the kinks, the fetuses, the faggots – those words used to dehumanize and them flush away unwanted people. You can talk about nonviolent solutions to conflict situations and then talk about the relationship between the unwillingly pregnant woman and the unborn child as an interpersonal conflict that should be solved in a win-win fashion."