Welcome New Subscribers from Kenyan Friends Conference!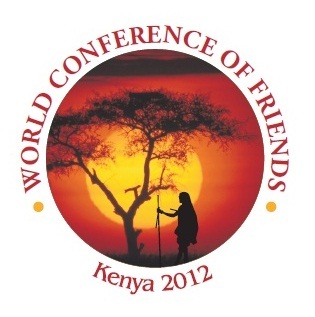 This will be the first issue of
Peace and Life Connections
for the many people who signed up at the Friends World Conference of Quakers held near Nakuru, Kenya, April 17-25. This is a good time to let you know, and remind everyone else, that we have a page with
past issues
you can peruse, and there is
an index
for looking up specific topics.
The address to send in topics or items to share is
weekly@consistent-life.org
.
CL member group Friends Witness for a Pro-life Peace Testimony (FWPPT -
www.prolifequakers.org
) did several activities at the conference; see a
full report here
.
∞ ∞ ∞

From the Kenyan Quaker Perspective

A small interest group at Friends World Conference was especially valuable because of the insights of two Kenyan women. They were a school counselor and a nurse; they reported that abortion is illegal in Kenya, but they knew about the illegal abortions, and had several ideas about the help that women need to avoid them. Given the police corruption in the country and the attitudes that lead to post-election riots and extrajudicial executions (that is to say, lynching) of accused thieves, it would follow that opposition to other kinds of violence will be a necessary supplement to legal status in order to protect unborn children more fully – as is of course true in all other countries as well.

∞ ∞ ∞
Europeans and Africans
FWPPT also did a highly successful literature table. The Europeans and those of European descent had reactions common to an anti-abortion consistent-life perspective in peace movement venues – some grateful or appreciating our approach, others quite puzzled or arguing. However, most Africans who came by were remarkably enthusiastic and got the point immediately. It was one of the most refreshing literature tables, as they understood immediately the point that when we discriminate against unborn children, then racism and discrimination against females and those with disabilities would also apply – how could it not? They also understood immediately that it made sense to learn about how abortion policy developed in the Unites States, and the racism involved, since the U.S. is pushing it on the rest of the world.
FWPPT gave out all 50 copies of Maafa 21 with 20 more to be mailed, and got 28 requests for books to be mailed – mostly to Africans, with some Latin Americans.
Left: Jane Tabalya and Sarah Tsimonjela signing up at the table
Right: Rachel MacNair staffs the table in Kenyan dress


∞ ∞ ∞
Quotation of the Week
Emmanuel Charles McCarthy
"Abortion and War,"
Center for Christian Nonviolence
Note: The medical term for miscarriage is "spontaneous abortion," and it is such abortions resulting from trauma to the mother to which he refers.
"Modern industrial war, once unleashed, produces an instant Auschwitz for the unborn—that's fact, not conjecture. Mass abortions are the necessary and one hundred per cent inevitable consequence of modern war . . . is abortion by war the great exception to the inviolable right to life of the innocent child
in utero
?