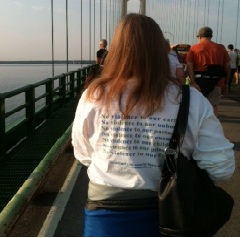 ∞ ∞ ∞
U.S. Political Conventions
CL member group Democrats for Life held its convention-related panel of speakers September 4. While it could hardly compete with the NARAL or Planned Parenthood speakers on-stage, it did receive
some publicity
. This in the
New York Times
: "The pitch: Democrats can't achieve a majority in Congress without running candidates who oppose abortion. Two former members of the House, Bart Stupak and Kathy Dahlkemper, insisted that pro-choice Democrats could not win back their old seats." The pro-life points about how important it is to support women in problem pregnancies were clear in much of the publicity.
Small points from the podiums: Sen. Rand Paul got some cheers when he called on Republicans to cut military spending. Rep. Jared Polis, a gay man, said that women in difficult pregnancies who do not abort because of their sincere beliefs are "courageous" and called for social support for these courageous women. Pro-life journalist E.J. Dionne thought "it was a useful blow against culture war divisiveness."
CL is not a partisan group, and CL members vary widely in how they see the race. But we are united by great displeasure that no presidential candidate in either major party, nor in the Green, Libertarian, Reform, or Constitution parties, are consistent lifers.
∞ ∞ ∞
Abortion Distortion Factor Hits Amnesty International Again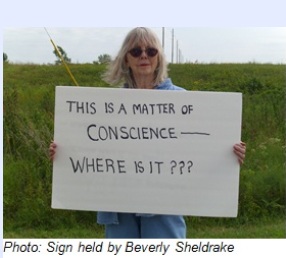 Amnesty International was founded to help prisoners of conscience by shining a light on their plight and bringing public pressure on their captors. They have expanded to other projects, many of which are worthy – for example, its 154-page report, "
Deadly Delivery
: The Maternal Health Care Crisis in the USA," would be a helpful read for anyone interested in that topic.
But just as the drive to take a stand on abortion led to
explicitly-stated censorship
, we now have this statement on page 58 of this report: "Some states have policies or legislation (also known as "conscience clauses") which allow health care providers and pharmacists to refuse to provide services or dispense
medication, including contraception, if it conflicts with that person's religious or moral beliefs . . . 43 states allow health care institutions, as well as individual providers, to refuse to provide abortion services."
This is on a list of legislation they oppose. Conscientious objection is dispensed with when abortion is the topic under discussion.
∞ ∞ ∞

Quotation of the Week
Judith Martin, Miss Manners column, August 20, 2012
∞
DEAR MISS MANNERS: What do you say to a niece who just had a baby? She is 17 years old and unwed.
∞
GENTLE READER: "Congratulations. I'd love to see a picture." And, if you can manage it, "Is there anything I can do to help you?"
∞
If, as Miss Manners suspects, you were thinking of some version of "This is not a good idea," your timing is bad.
∞
DEAR MISS MANNERS: How does one acknowledge that a friend has been given six weeks to live, besides visiting and supporting them? What can one say?
∞
GENTLE READER: One can listen. If there is ever a time that one should be allowed to direct the conversation, it is at the end. You will soon understand whether that particular friend wants to reminisce, philosophize, bemoan fate or chat as usual. Miss Manners trusts that you can then work statements of your affection and admiration into any conversation.