One-Track Mind Department
We offer a couple of thoughts on items that weren't really intended to connect issues at all, but that's the way we think.
The first is the recent
headline in the American History
magazine – "New Research:
Jefferson's Choice
. The real reason he owned, bought, sold, and traded more than 600 slaves." Carol Crossed comments: "No wonder the
pro-choice movement is abandoning their label
."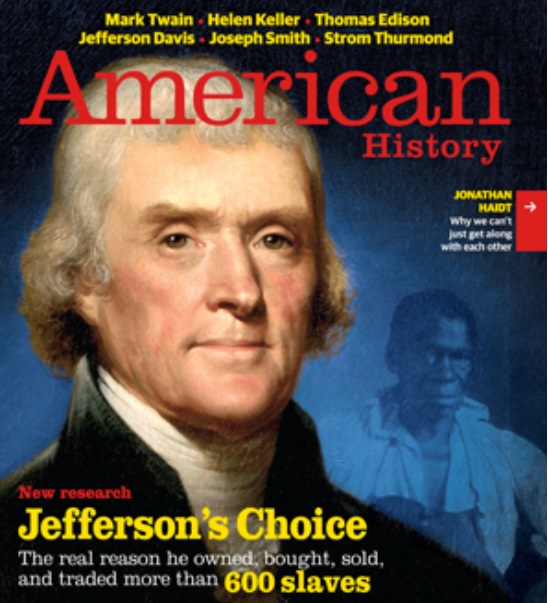 Then this from an e-mail from Amnesty International USA: "Children as targets? Children as soldiers? All children deserve to be protected from gun violence no matter where they live." The one-track mind recalls immediately that Amnesty International defends treating children as targets to be ripped apart by an abortion curette. All children deserve to be protected – period!
They were actually calling for action on the
U.N. Arms Trade Treaty
in the form of their own petition. Direct letters to Congress for ratification, once the treaty is ready, will be all the more effective, and avoid the problem of dealing with an inconsistent organization.
+ = = = +
Atheists and Catholics Together
The
Catholic World Report
just published January 24 an excellent article entitled "
Atheist, Secular, and Pro-Life:
Non-religious pro-lifers contend you don't have to believe in God to know the unborn have rights." It covers our
member
group
Secular Pro-Life
, our friend Doris Gordon from
Libertarians for Life
and our friend Nat Hentoff. Being a Catholic publication, it explains at the end how delightful it is to have everyone involved and working toward the common good.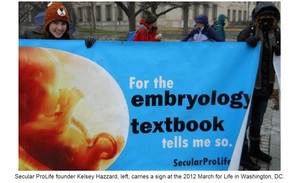 + = = = +
Pro-Life Liberals Facebook Page
The
Pro-Life Liberals Facebook Page
has a cartoon directly linking abortion and the death penalty, and overall may be an interesting page to visit and make comments on.
Quotation of the Week
Shane Claiborne
A Dialogue on What it Means to be Pro-Life,
Red Letter Christians
, January 22, 2013
One of the most important issues of our day is the need for a consistent pro-life ethic. Catholics and evangelicals and all sorts of folks have begun to resonate with this idea—not just in the sense it is talked about in abortion debates. . . . As a young Christian, I was confused about the inconsistency with which we address issues of life. No group or party seemed to be seamless. Some folks were against abortion and euthanasia, but were pro–death penalty and pro-military. I found myself at odds with some of the positions that had come to characterize traditional evangelicalism, but I sure didn't fit into a progressive or liberal camp either.


As Red Letter Christians, we need to be pro-life from the womb to the tomb. Abortion and euthanasia, the death penalty and war, poverty and health care—all of these are issues of life and death. And they are issues Jesus cares about because they affect real people