Comparing Evils and Condemning Them Both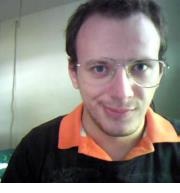 CL Board member Nick Neal has written another excellent
response on Facebook
to criticism of the consistent life ethic. In the past he's responded to David Pakman and his liberal attacks against our position on abortion, but this time he's responding to conservative criticism from Scott Klusendorf who argues that we exist, as Nick puts it, "as tools to trick pro-lifers into voting for pro-choice politicians."
∞ ∞ ∞
New Idea: "Preglimony"
Law professor Shari Motro has published a
New York Times
opinion piece: "
Responsibility begins at conception
" (July 6, 2012). Noting that technology has advanced so that paternity can now be established with a simple blood test while the woman is still pregnant, she proposes getting the now-known father of the child involved prenatally. She's careful to avoid a term like "child support," which would have anti-abortion implications, so she makes an analogy to alimony.
Katie Roiphel posted
a response in Slate
on July 10, with a fascinating sub-title: "Preglimony and Pro-Choice Rhetoric: If we ask fathers to support a pregnancy, aren't we admitting that the fetus is a child?" Wringing her hands at the implications, she notes: "The interests of protecting expectant mothers does not necessarily coincide with the interest of protecting abortion rights." No kidding.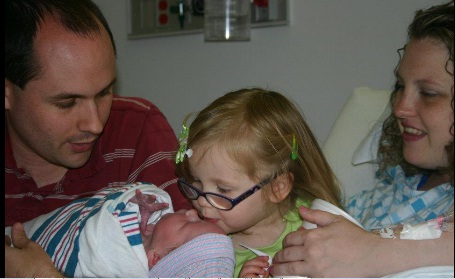 Made-up words are not needed here. "Prenatal child support" is a fine concept – or better yet, prenatal participatory parenthood. Both mothers and fathers benefit when the father is involved as early as possible, because parenthood is cool. There's no point in waiting to get started, once the baby is there.
Both articles have on-line places to comment.
∞ ∞ ∞
City Election on Nuclear Weapons
It's rare – probably unique – that a city can vote on the financing of nuclear weapons production, but the Kansas City, Missouri Council's financial involvement in a new plant makes this possible. For more details and updates, see
foolish-investment.com
. The hope is to get it on the November 6 ballot.
The campaign needs volunteers to leaflet people coming out of the polls for Missouri's primary election on August 7; most of these voters will also vote in November, and it's a prime opportunity to use meager resources to reach people to frame the issue before the big money opposing the measure hits.
Since the editor of
Peace & Life Connections
(Rachel MacNair) is also active in this campaign, there will naturally be a mailer sent to the city's pro-life activists to explain the importance and connections, including quotes from
Herman Kahn
and Bishop
Fulton Sheen
.
If you know of anyone who lives in or near Kansas City, please have the person call Rachel MacNair at 816-753-2057 to make arrangements.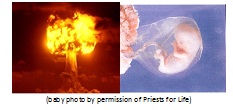 ∞ ∞ ∞
Quotation of the Week
Nick Neal
"
Comparing Evils and Condemning Them Both
: a Response to Scott Klusendorf," posted June 26, 2012
"Klusendorf is making an idiotic move in expelling consistent lifers from the pro-life movement. By advocating that in order to be pro-life you are not allowed to oppose other forms of legalized homicide, he narrows the movement. Especially by making support for an unpopular war a requirement to be in the movement. . . . I've been concerned for unborn rights nearly all my life and I refused to be excommunicated from my own movement. The same goes for other consistent lifers."