September is Suicide Awareness Month
"Assisted suicide" is a euphemism for one form of euthanasia; while there are some people who really do want it, the danger is that a "right to die" becomes a "
duty
to die" very quickly. In any event, we are disproportionately putting certain people – disabled and poor – into a category of people who don't get the suicide-prevention services normally offered everyone else.
That post-combat suicides are rising is in many places in the news now; the posttrauma reactions that lead to suicide are well documented.
Studies
also suggest the possibility that having an abortion is more likely to lead women to suicide: for example, mortality studies in Finland found a three-fold increased risk of suicide in the first year following an abortion compared to the general population and a six-fold higher risk compared to women who gave birth. The highest suicide rate was within two months of the abortion. Less studied but with some cases known worth paying attention to are the fathers who commit post-abortion suicides.

∞ ∞ ∞

CL Endorsers & Member Groups Prominent in Summit of Peace-Minded Evangelicals
Evangelicals for Peace: A Summit on Christian Moral Responsibility
met at Georgetown University on September 14, with CL Board member Rob Arner attending. This summit was billed as an attempt to reenergize a Christian constituency not normally known for its peace witness against wars. Glen Stassen, a CL endorser, asserted we need tangible alternatives to reduce and prevent wars. Stassen is the chief architect of the
Just Peacemaking Paradigm
, a set of peacemaking practices designed to set aside the interminable debate between pacifists and just war adherents by focusing on concrete measures on which all sides can cooperate to prevent the outbreak of wars and create the conditions for a just and sustainable peace.
Other CL Endorsers presenting included David Gushee and Jim Wallis, and member groups Evangelicals for Social Action and Sojourners served as major underwriters of the event.
∞ ∞ ∞
New Book: Moral Minority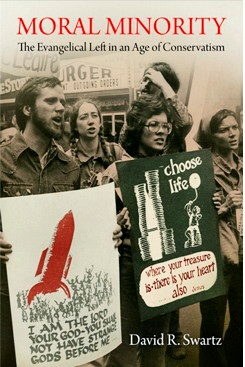 Subscriber David Swartz sends: "My book,
Moral Minority: The Evangelical Left in an Age of Conservatism,
has just been released by the University of Pennsylvania Press. The stories of many people (Wallis, Sider, and many others) associated with Consistent Life appear in the book, and in the final chapter I describe the emerging of a consistent life campaign in the 1980s. I think many of you would find it and
my blog
interesting. If anyone is interested in blogging about it or reviewing it in the newsletter, I can probably get you a review copy. Contact me at
david.swartz@asbury.edu
."
∞ ∞ ∞
Quotation of the Week
Rand Paul, U.S. Senator
Values Voter Summit,
speech posted September 14
, 2012, page 2
"I'm not a pacifist, but I do think it unacceptable not to hate war. I'm dismissive of those who champion war as sport and show no reluctance to engage in war. Any leader who shows glee or eagerness for war should not be leading any nation. I believe truly great leaders are reluctant to go to war and try mightily to avoid war . . . The coarsening of our culture towards violent death has more consequences than even war. Tragically, this same culture has led to the death of 50 million unborn children in the last 40 years. I don't think a civilization can long endure that does not have respect for all human life, born and not yet born."