Get clothing, buttons, bumper stickers, magnets, mugs and cards promoting a consistent life ethic at the CL Online Store



Loading




Peace & Life Connections #138
November 30, 2012
2009: U.S. Abortion Rate Drops 5%
In the largest single-year drop since legalization, the Centers for Disease Control
report
the U.S. abortion rate dropped 5% in 2009, the latest year for which it has figures.
The number of abortion clinics plummeted more in the 8 years when Bill Clinton was president than during any other 8-year period. Now the first year of Barack Obama's term has offered another steep decline of another kind. But unlike that in the Clinton years, this decline can't be attributed to relative economic prosperity; 2009 was the worst year of the Great Recession.
There are many ideas on why the abortion rate fell. One is that grassroots pro-life people take more action when not relying on presidential lip service.
In a similar dynamic, the peace movement held the largest world-wide peace demonstration ever under George W. Bush. It's not nearly as active under the Obama administration. Yet with a kill list, weaponized drones, nuclear weapon "modernization," the Guantanamo Bay prison still open and continuing wars, grassroots peace action is needed every bit as much under either administration, just as pro-life action is needed at all times.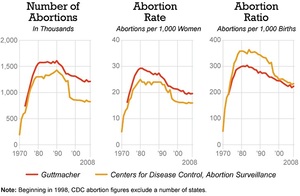 ∞ ∞ ∞
Dorothy Day – Consistent, and on the Way to Sainthood
A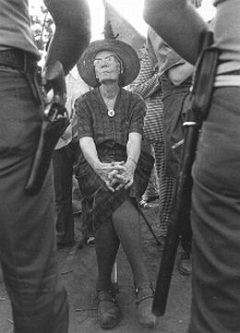 New York Times article
on the U.S. bishops' unanimous vote to further the canonization process for Dorothy Day highlights how she advocated effectively for – and lived a lifestyle that reflected – all the issues involved in the consistent life ethic. The article is entitled "In Hero of the Catholic Left, a Conservative Cardinal Sees a Saint." This bridge-building on issues of promoting nonviolence is a delight to see in that newspaper. (See quotation below.)
∞ ∞ ∞
British Radio Hears CL on U.S. Elections
A CL Board member who participates regularly in a vigil at Planned Parenthood in Washington DC (a witness which encourages clients to consider choosing life and provides referrals to the counseling, housing, and medical and material assistance available from pregnancy help centers) was interviewed by British radio commentator Iain Dale (about
11 minutes into the broadcast
) shortly before the election and had the chance to discuss the CL message as it relates to the US political climate. Opinions regarding specific candidates are those of the speaker, since CL doesn't endorse candidates. But we have no problem pointing out that both major parties support state-sanctioned killing.
∞ ∞ ∞
Quotation of the Week
The Catholic Peace Fellowship
-
Statement on Abortion
June 28, 1974
(signed) Dorothy Day, Eileen Egan, Hermene Evans, Joseph Evans, M.D., Thomas C. Cornell, James H. Forest, Gordon C. Zahn
The January 22, 1973 Supreme Court decision on abortion deprives all unborn human beings of any protection whatever against incursions upon their right to life and has thus created a situation we find morally intolerable . . . For many years we have urged upon our spiritual leaders the inter-relatedness of the life issues, war, capital punishment, abortion, euthanasia and economic exploitation. We welcome the energetic leadership our bishops are giving in the abortion controversy and we are proud to join our voices with theirs. At the same time we must point out that, ultimately, the sincerity of our words and theirs on any of these issues will be measured by our readiness to recognize and deal with the underlying social problems which turn many people to these deadly alternatives, to condemn all forms of social and economic injustice and to work for their elimination and the establishment of a social order in which all may find it easier to be "fully human."