On-line Petitions

Petitions by their nature tend to be single-issue rather than connecting. We expect many of our subscribers already also subscribe to lists that do many fine on-line petitions.
The problem is that some of the outfits that do many fine ones – MoveOn and change.org – will also offer signers of one petition other petitions that include ways of defending abortion. Accordingly, we're not comfortable suggesting even good petitions they do; as individuals, we'll still sign good petitions, but CL doesn't want to give links to good on-line petitions only to have us be immediately assaulted by pro-killing euphemisms.
So far, it appears that RootsAction is an on-line petition outfit that has not yet done any abortion defense. If anyone knows differently, please let us know. Signing on-line petitions is one form of action we like to encourage, and we'd like to share opportunities to stop some kinds of killing that won't subject our subscribers to advocacy for other kinds.

+ = = = +
But We Make an Exception . . .
After a previous abortion scandal, the State of Maryland developed some surprisingly strong regulations to require
abortion clinics
to operate in a medically appropriate manner. However, there is no indication the State has done anything at all to implement them. When the clinic of Leroy Carhart applied for a license, it was granted in hours -- no inspection then or later. This is the background for not waiting for the State to do its job, and the assumption that it won't without a lot of pressure.
Because change.org has a set-up allowing anyone to set up a petition, a group called Defend Life (not a CL member) has
one up asking for closing down Carhart's abortion clinic
and suspending his license, because a second woman has died under his hand. While change.org chooses what they feature, anyone can set one up.
+ = = = +
Kenyan Elections
Several of our subscribers are from Kenya, and their national elections are coming up this Monday (March 4). The last round had post-election riots in which many people were killed in ethnic clashes. Kenya is a country where abortion is illegal, but still happens, and is likely to still happen as long as other forms of killing give it a role model. Nonviolence advocates have been doing much to prepare so that violence doesn't come again this time, and we wish them the best.
+ = = = +
And Another One Comes
CL Board member (and secretary) John Whitehead reports the birth of son Alexander Joseph Whitehead on Friday, February 15. We're always happy to have an excuse to picture a newborn baby and family: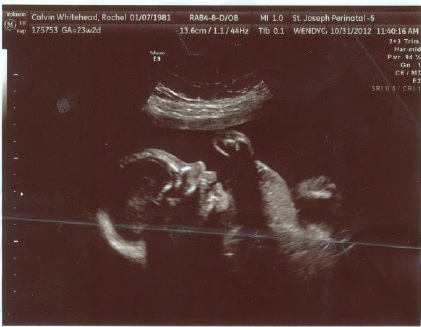 Left: Rachel, Alexander, and John post birth
Right: Alexander inside Rachel, earlier on
+ = = = +
Quotation of the Week
Norm Carroll, founder and director of
CL member group
Accepting the Biblical Christ
Miracles, Messages and Metaphors
(Synergy Books, 2010), p. 73.
O sainted Moses, you have told us to choose life by loving the Lord our God despite our desolate deserts. We understand this to mean that we must preserve and enhance all life wherever it is found. We shall cast down the walls of division erected through war, misunderstanding, self-doubt, hostility and much more. We hereby consecrate ourselves to promote life from womb to tomb, and through this, we trust we shall find life and enter it with you in our eternal promised land.