Get clothing, buttons, bumper stickers, magnets, mugs and cards promoting a consistent life ethic at the

CL Online Store




Loading




Peace & Life Connections #154
April 5, 2013
New Issue of Life Matters Journal
The most recent issue (volume 2, issue 3) is
available online
, where you can also order a hard copy. This issue includes pieces on anti-war Republicans, legislative efforts to increase abortion access in New York and to restrict such access in North Dakota, and the group Bikers Against Child Abuse, as well as an article by pro-life activist Rebecca Kiessling on how having been conceived in rape shapes her commitment to defending the unborn. Essays from our CL board members include ones on pro-life Democrats by Rose Evans, the Obama administration's lethal powers by John Whitehead, and deceptive Left-Right political categories by Nick Neal. CL member group
Feminists Choosing Life of New York
also contributed to this issue.
+ = = = +

Abortion and Drones – April 13 in Washington, D.C.

From a Patrick Mahoney post on Facebook: "As a pro-life leader, it is important for me to have a 'consistent life' message. So we must speak out when innocent life is killed in America through abortions, as well as innocent life that is killed overseas through drone attacks. Therefore I invite you to join with me as we pray at Planned Parenthood in Washington, D.C. on April 13 at 10:30 A.M. and then walk with me to the White House to speak out against President Obama's use of drones and a large protest there at noon! We must be a prophetic witness for life!"

+ = = = +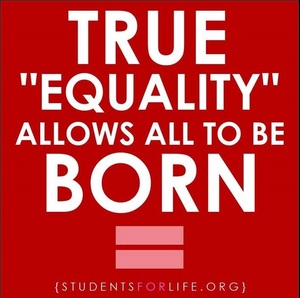 Students for Life offered the above graphic,
playing on the current symbols in the same-sex marriage debate
+ = = = +
Pro-Life in the Third Millennium
Aimee Murphy, Executive Director of Life Matters Journal, gave a presentation hosted by Students for a Fair Society at Franciscan University of Steubenville titled "When Does Life Matter? Pro-Life in the Third Millennium" on the Consistent Life Ethic to a crowd made up largely of Catholic youth.
Aimee reports: "It was well-received and I heard nothing but positive feedback from the attendees. One girl in particular, a very active pro-life activist, approached me and asked "Do we have to be a certain political party to be Consistent Life?" I responded, "Of course not -- our movement is made up of all kinds. The important thing is that you use words appropriately -- if you say you are Consistent Life, then truly adhere to the tenets of that belief." She left emboldened to take the message of the value of all human life with her in her daily work."
A
video with the audio from the presentation
and the visual from the Prezi is available.
+ = = = +
Nuclear Weapons Election in Kansas City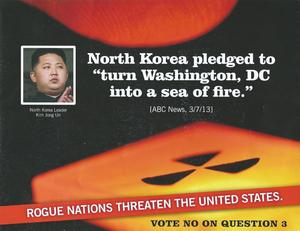 The final result in this initiative to stop city financing of the local nuclear weapons parts plant was a yes vote of only 23%. Media coverage was sparse and sometimes distorted, and the business interests which put in over $90,000 to oppose it also knew how to pull strings with local organizations. The mailer every voter in town received is pictured at right.

Opponents of any violence are, of course, accustomed to this treatment, and also accustomed to continuing to take action anyway.

+ = = = +


Quotation of the Week
Neville Sender, abortion doctor

We know that it's killing, but the state permits killing under certain circumstances.
To submit a possible item for Peace & Life Connections, or if you believe there is an error, please contact us at Peace & Life Connections.