Conan O'Brien Comedy: Fetus at Large
A humor skit,
now on YouTube
, has the premise that in the ultrasound of an unborn child of two specified notorious celebrities, she shakes her head upon thinking who her parents are and makes a break for it. Placenta in tow, he hotwires a police car and escapes. (Yes, the baby changed genders, but the viewer has long since abandoned any sense of logic.)
A fascinating vignette occurs
in the second part
of the adventure -- after riding a dog to escape police, baby Kim-Ye runs across a Planned Parenthood clinic. As the narrator says "oh-oh" at the danger and declares it awkward, baby backs out quickly. Kim-Ye then hops a blimp and adventures continue.
Humanizing unborn children is normally done in a serious way with visuals and logic, but humor can make the point memorably and poetically. Is this a sign that the culture is moving more toward humanizing voiceless children?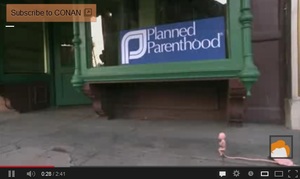 + = = = +
60 Minutes: Serial Killer Nurse
The television news program
60 Minutes
ran a 2-part report April 28
on a critical-care nurse, Charles Cullen, who admits he committed around 40 murders of individuals he didn't know and was casual about killing. An investigative reporter thinks it's actually hundreds. While reporters stressed these were not "mercy killings" because many patients were expected to do fine, the report does show that the medical setting is one where murders can most easily go undetected for years. Hospitals didn't want to catch him at it for fear of malpractice suits. This could attract people of serial-killer mindset who want a way not to get caught. This doesn't bode well for the idea of euthanasia "safeguards."
But consistent lifers watching would have picked up on this point: before being a nurse, this man had worked on a nuclear weapon submarine. Being in a situation where he was expected to be ready to take part in killing large numbers of innocent unknown people at a moment's notice cannot have helped.
+ = = = +
Construction vs. Development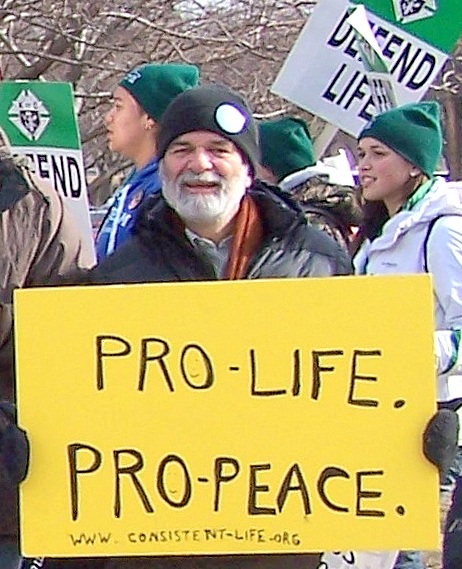 CL board member and law professor Richard Stith (pictured at March for Life) sends word he's had an article accepted for publication in the prestigious
Kennedy Institute of Ethics Journal
. Its title is "Construction vs. Development: A Source of Deep Misunderstanding Concerning the Beginning of Life." A less scholarly version of the point is online in several spots;
one was published in First Things
.
+ = = = +
Follow-up: Good News!
We
reported before
on the cases of two Scottish midwives, Mary Doogan and Concepta Wood (pictured), taking their conscientious objection to any form of participating in abortions to court. They lost in lower courts, but an appeals court
has now ruled in their favor
.
+ = = = +

Quotation of the Week
Bishop Thomas Gumbleton on Democracy Now, April 12, 2013

Well, on abortion, I certainly stand with the idea that it's evil and immoral, a crime to kill an infant, even in the womb. And the killing of any human person, I am convinced, is evil and wrong. I believe in what Eileen Egan, a peace activist who helped Dorothy Day at the Catholic Worker, developed the idea of a spectrum, a seamless garment. If you're going to be against violence, you have to be against all violence. And so, if abortion is an attempt to bring about a violent solution to a very complicated problem, I don't think a violent solution is the right solution.