Amnesty International and NATO Support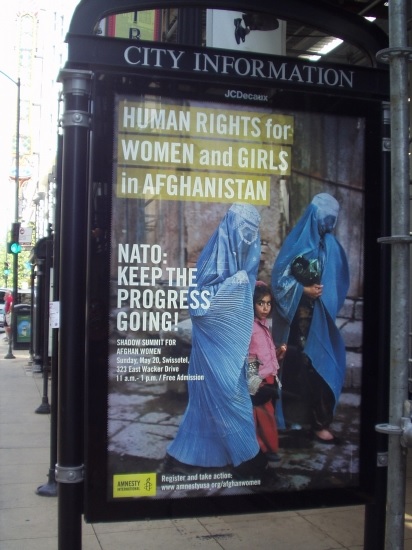 The poster from Amnesty International reads: "Human rights for women and girls in Afghanistan. NATO: Keep the progress going!" The first sentence is one we would all assert, but the second sentence turns it into pro-war propaganda. All wars – and all other kinds of violence – are supported with attempts at justification that sound good. But an instance where war didn't lead to horrific human rights abuses by the side using such justification is hard to come by. NATO in Afghanistan is certainly not one such instance.
Roots Action has an
online petition
for AI to have a single standard on human rights violations in war, to avoid justifying war by the "other side." This petition is an especially helpful way to communicate for consistent lifers, because there's a comment box. We as signers can comment about consistency and connections, challenging AI on its pro-violence stand on abortion, which even includes
opposition to conscientious objection
to participation. Whether or not those are read by AI officials, they're likely to be read by other petition signers and the organizers.
+ = = = +
Abortion Distortion Factor, Yet Again
Governor Cuomo of the state of New York is holding up passage of the Women's Equality Act, which offers new supports for women, because he wants to add new pro-abortion rules and funding. New York is the state with the highest abortion rate in the United States - almost twice the national average. There is a lack of support and encouragement for women to carry pregnancies to term. The Governor eliminated the only program in the state aimed to support pregnant women. There is no effort to reduce abortion or make it rare. A New York member of Democrats for Life has
started a
petition
which urges Governor Cuomo to pass the Women's Equality bill
without
the abortion expansion language. The first 9 points of the Equality bill address human trafficking, equal pay for equal work, an end to pregnancy discrimination and empowerment of women. These important measures shouldn't be sabotaged. If you have friends in New York State, please encourage them to sign as well.
+ = = = +

Feeding People is Not Civil Disobedience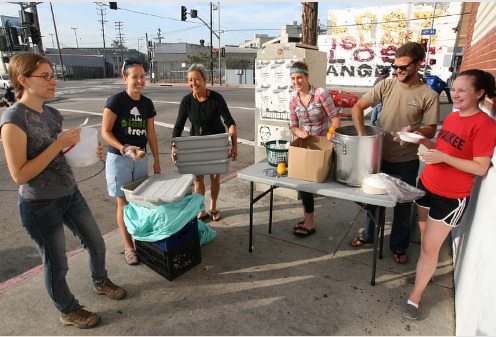 The
Los Angeles Catholic Worker
(LACW), a Consistent Life
member organization
, has served breakfast at 4th Street and Merrick Avenue for 18 years. On May 3 and May 8, they were issued citations for Obstructing Public Right of Way, "for the way we set up tables to serve the oatmeal, hard boiled eggs. oranges, pastries and coffee to our friends on the street." Catherine Morris and Jeff Dietrich attended a hearing on May 9 to try to prevent a complete disbanding of the breakfast operation and confiscation of the supplies and van. The decision was that they can no longer use tables and can only serve from the back of their van and truck -- but in the past the Health Department cited them from serving out of their van! The LACW calls this a new attempt to "eliminate our right to practice our religious obligation" -- the obligation to feed the hungry. They asked friends to keep this situation in their prayers.
+ = = = +
Quotation of the Week
Rev. Johnny M. Hunter, co-founder, Life Education and Resource Network
Abortion is racism in its ugliest form . . . Because of some very suave planning by abortion supporters and providers, abortionists have eliminated more African-American children than the KKK ever lynched.