Guilty Verdicts for Two Mass Murderers
Both men murdered and/or directed other people to murder massive numbers of innocent people, in the midst of horrific amounts of other brutality. Both men were not merely members of groups that spread such horrors but had large portions of their societies encouraging them in what they were doing, with government agencies cooperating with them doing it – thereby making the guilt for the atrocities far more widespread than these individual men alone.
Still, both men had courts render guilty verdicts against them this last week. The parallels in their cases are clear. Though justice won't be served – the living victims aren't getting restitution, and justice was delayed far too long – it's still a cause for hope that the recognition of their victims is finally being taken more seriously. On May 13, the
PBS NewsHour
ran both stories: the two men are U.S. abortionist
Kermit Gosnell
and Guatemalan dictator
Efrain Rios Montt
.
+ = = = +


Abortion Doctor Kermit Gosnell Convicted of First-Degree Murder

In the U.S. city of Philadelphia, convictions were for three counts of first-degree murder for newborn babies whose spinal cord Gosnell cut, and involuntary manslaughter for the death of Karnamaya Mongar. This only skims the surface of the crimes he committed, but they were the ones highlighted in the press and for which the evidence was solid.
Gosnell was sentenced on May 14 to life in prison without possibility of parole. He decided to forego an appeal in exchange for avoiding the death penalty, so he is not to be executed.

+ = = = +


Efrain Rios Montt Convicted of Genocide

Hundreds of people crowded the Guatemalan courtroom, many of them widows who had been mercilessly and continuously subjected to gang rape by soldiers. They broke into cheers as Judge Yasmin Barrios read the verdict: Rios Montt was responsible for deaths of 1,771 members of the Maya Ixil population during his 1982-83 rule of Guatemala resulting from a coup d'état.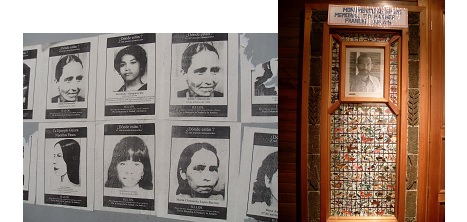 Photos of memorials to victims taken by Matthew MacNair in Guatemala in June 2009


+ = = = +
Quotation of the Week
William Brennan
Dehumanizing the Vulnerable: When Word Games Take Lives
Contrary to popular belief, although despicable language is often primarily associated with crazed individuals or mobs in the streets, it is far more likely to emanate from highly educated, respectable circles. Eminent people throughout history rank among the most steadfast purveyors of demeaning expressions. In
The Republic,
Plato's advocacy of infanticide (book 5) proceeded from a perception of handicapped children as "inferior creatures." Louis Agassiz, founder of the Museum of Natural History at Harvard University and a leading nineteenth-century scientist, called black people a "degraded and degenerate race." . . . The successful waging of semantic warfare on the contemporary unwanted unborn can likewise be largely attributed to the heavy participation of influential and respectable individuals and organizations.