Get clothing, buttons, bumper stickers, magnets, mugs and cards promoting a consistent life ethic at the CL Online Store


Loading




Peace & Life Connections #164
June 14, 2013
Gospel of Life Celebration
Evangelium Vitae --
"Gospel of Life," was issued by Pope John Paul II in 1995. The 194-page document was addressed first to Catholics, but also to "all people of good will," stressing its universal call for protection of the unborn, the sick and elderly, those on death row, and others who suffer direct and indirect threats to their lives.
A celebration is scheduled for June 15 and 16 at the Vatican, when thousands from around the world will assemble in Rome for a variety of events.
Vatican Radio
and
Vatican TV online
will broadcast in 6 languages at least the final mass of Pope Francis on Sunday morning, 10:30 AM Rome time.
Says Fr. Eugene Sylva, one of the organizers behind Evangelium Vitae Day, "One of the things we want to demonstrate is that the Gospel of Life is the defense of all life. We want to show the consistent life ethic of the Catholic Church."
+ = = = +
Firestorm in New York State
CL member group
Feminists Choosing Life of New York
is naturally involved in objecting to Governor Cuomo's push to put abortion expansion into what is otherwise a good Women's Equality Act (billboard pictured). The state NRL affiliate, New York State Right to Life, is of course also quite exercised over this, and its executive director, Lori Kehoe, has written
an admirably assertive piece
appealing to the fine tradition of pro-life feminism.
+ = = = +
More on the Conscientious Objection of Scottish Midwives
The right to not be forced to participate in violence is a strong link between all issues.
We reported
that Mary Doogan and Concepta Wood won their appeal – that their conscientious objection applied to
all
participation in abortions, not just direct participation. Unfortunately,
this decision is being appealed
to the British Supreme Court. Stay tuned.

Adding Another to the Community

Lynn Lewandowski has done a lot of graphic design work for Consistent Life, so we're delighted to announce the birth of her daughter, Anya, on May 1.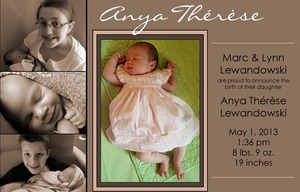 + = = = +
Quotation of the Week
Evangelium Vitae
– Gospel of Life, 1995
The Gospel of life is for the whole of human society. To be actively pro-life is to contribute to the renewal of society through the promotion of the common good. It is impossible to further the common good without acknowledging and defending the right to life, upon which all the other inalienable rights of individuals are founded and from which they develop. A society lacks solid foundations when, on the one hand, it asserts values such as the dignity of the person, justice and peace, but then, on the other hand, radically acts to the contrary by allowing or tolerating a variety of ways in which human life is devalued and violated, especially where it is weak or marginalized. Only respect for life can be the foundation and guarantee of the most precious and essential goods of society, such as democracy and peace.
To submit a possible item for Peace & Life Connections, or if you believe there is an error, please contact us at Peace & Life Connections.