Another Ominous Use of "It's a Girl"
Our
comment last week
on the documentary that said that "it's a girl" are the three most dangerous words in the world brought this unusual connection of issues, dealing with sexist attitudes, sent in by subscriber Mary Liepold: the telegrams scientists sent to tell the U.S. federal government that the first atom bomb test succeeded said "It's a boy." Had it fizzled, the message would have said "It's a girl."
Of course, in this case, things would have been less deadly if only those three words could have been said.
Handling School Shootings with Nonviolence and Humanity
Antoinette Tuff (pictured) is a grade school book-keeper who kept her wits when faced with a mentally-ill armed man who was off his medications due to his Medicaid benefits running out. As they put it in
Salon
: "In this story, the only thing that stopped a bad guy with a gun was a good woman with a heart. . . . The only thing that stopped an emotionally damaged, despairing and unloved young man with 500 rounds of ammunition was a compassionate woman sharing her own story of damage and despair, and telling him she loved him."
The Guardian
comments
on the incident's political implications, and you can listen to the
full 911 tape here
.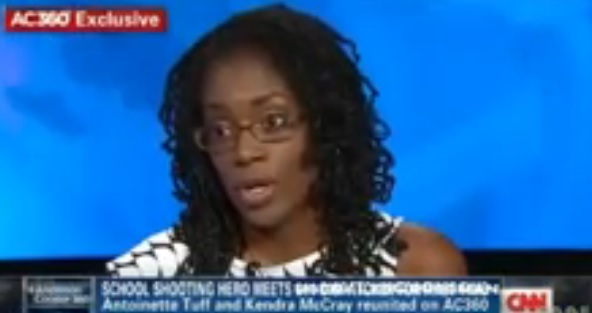 CNN Interview
+ = = = +
Pro-life Progressives: Still Not a Myth
Robert Christian published an
article on pro-life progressives
August 26, 2013. We'll quote on the connection of abortion to poverty: "Implicit in this materialism [the materialism worshiped by bourgeois "progressives"] is the unspoken notion that it is better for some children to be killed than for them or their family members to fail to become members of the bourgeoisie. It is better for poor women to kill their children than to possibly sacrifice a move up into the middle-class. In their eyes, killing a child who can't live a bourgeois childhood may be the humanitarian thing to do."
+ = = = +

Egypt and Syria
Stephen Zunes, co-editor of our book,
Consistently Opposing Killing
, is a political science expert whose commentaries on current events are insightful. He's written about the post-coup massacres of protesters
in Egypt
, and the dangers of making things worse with any military intervention
in Syria
: "Until the United States is willing to take a principled stand against all war crimes, regardless of the relationship of the perpetrator with the United States, the Obama administration will have a hard time convincing Syrians that its intentions . . . are actually humanitarian."
CL member group Pax Christi has also
issued a statement about Syria
.
+ = = = +

From War to Peace – New Designs
The group "From War to Peace" sells jewelry and accessories made from disarmed and recycled nuclear weapons systems – the modern-day version of swords into plowshares. They're now offering
a sneak peak of new designs
; see also
the originals
.
You get a 5% discount, and Consistent Life gets 20% of the purchase price, if you use this coupon code at time of purchase: consistentlife

Quotation of the Week
Rev. Dr. Martin Luther King, Jr.
"I Have Dream" speech, August 28, 1963 (50
th
anniversary this last week)
We must forever conduct our struggle on the high plane of dignity and discipline. We must not allow our creative protests to degenerate into physical violence. Again and again we must rise to the majestic heights of meeting physical force with soul force.
See also:
Connecting the dots on Martin's legacy: poverty and racism here, militarism there.