Outreach at National Council of Catholic Women
CL Board member Lisa Stiller ran a literature table for us and reports: "Wow, the table at the National Conference of Catholic Women has been a great success. A few people have asked if we
provide speakers
. Went through
a lot of lit
, especially the Catholic Social Teaching and Respect All Life trifold. Also gave out a lot of the
sample newsletters
. Lots of the cards were taken; favorites here have been Dorothy Day, Martin Sheen, Mohandas Gandhi, and Sr. Helen Prejean. Also gave out many Abby Johnson cards -- these were a good conversation starter too! Lots of good support and some very good sign ups."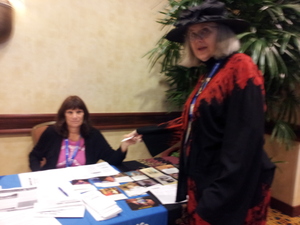 Left: Lisa Stiller. Right: Kathleen Melville-Hall
+ = = = +
Techniques Across Issues: Whistleblowing
People inside violent institutions are in the best position to expose the specific problems with those institutions. Daniel Ellsberg is a well-known example from the era of the U.S. war in Vietnam; recent examples include Bradley/Chelsea Manning and Edward Snowden and
John Kiriakou
. When the institution is the massive war machine, whistleblowers run a definite risk of going to jail. People still do it as a matter of conscience.
For the abortion industry, however, the situation is reversed: under current conditions in the U.S., whistleblowing on an individual clinic may be necessary to
avoid
going to jail. The recent
conviction of Kermit Gosnell
for murder was not the end of the story: eight of his employees went to jail as well. In addition to unpermitted kinds of violence and non-reporting of child sexual abuse, fraud in insurance, Medicaid, and tax returns are widespread. Nor do potential whistleblowers need to be motivated by conscience. A heated argument with the doctor or staff could be enough to get them to turn over information to local prosecutors.
A web-site has been set up
to encourage and facilitate such whistle-blowing. This will only impact one clinic at a time, of course, but that's another difference from war-machine whistleblowing: each clinic that closes really does diminish the whole system.
+ = = = +
Non-Religious Pro-lifers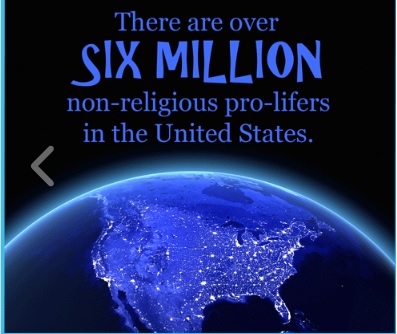 CL member group
Secular Prolife
had a presence at the American Atheists Convention and had multiple people accuse them of being a secretly religious group – insisting that there is no such thing as a non-religious pro-lifer.
They point out
that according to
this recent Gallup report
, 19% of atheists, agnostics, and those with no religious preference identify as pro-life. While Gallup's findings confirm a strong correlation between religiosity and pro-life views, it also confirms 1 out of every 5 non-religious people consider themselves pro-life – a minority, but
not
non-existent. If over 34 million American adults identify as atheist, agnostic, or no religion; that means roughly 6.5 million non-religious pro-lifers in the U.S.

Quotation of the Week
Pope Francis
June 16 homily at the worldwide "Day of the Gospel of Life"

The commandments are not a litany of prohibitions — you must not do this, you must not do that, you must not do the other; on the contrary, they are a great "Yes!": a yes to God, to Love, to life. All too often, as we know from experience, people do not choose life . . . but let themselves be led by ideologies and ways of thinking that block life, that do not respect life, because they are dictated by selfishness, self-interest, profit, power, and pleasure, and not by love . . . As a result, the Living God is replaced by fleeting human idols which offer the intoxication of a flash of freedom, but in the end bring new forms of slavery and death.