Get clothing, buttons, bumper stickers, magnets, mugs and cards promoting a consistent life ethic at the CL Online Store


Loading




Peace & Life Connections #184
November 1, 2013
International Good News on Abortion

An Australian physician, Dr. Mark Hobart, is now joining the ranks of conscientious objectors to abortion. The bad news is why he has to be: he's in danger of losing his license because he refused to perform a sex-selection abortion or refer the mother to someone who would. But conscientious objection by people pushed to be participants is crucial to stopping the violence, so we'll account his public stand as good news.
There's also been a rally opposed to abortion in Taipei, Taiwan, with Buddhists and Christians united.

Good News in U.S.: Judge Acquits Anti-drone Activists

Five Catholic Workers (several Catholic Worker groups are CL members) were acquitted of disorderly conduct charges for blocking the main entrance to Hancock Air Base. As reported in The Nuclear Resister: "After the verdict was announced, the D.A. objected, and the judge said to him that he hadn't found 'mens rea,' Latin for 'guilty mind.' The five defendants, with powerful eloquence, convinced the judge that their intent was to uphold, not break, the law. This acquittal marks a major breakthrough by those who have sought to strengthen international law, and stop U.S. war crimes, including extra-judicial murder by the illegal drones."

International Human Rights Day

Ward Ricker of "Human Rights for All Ages" is searching for people all over the world to join or create events pointing out the human rights of unborn children. This will be December 10; see the web page for details.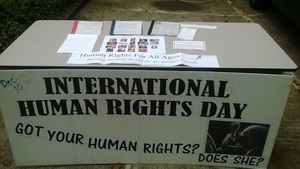 + = = = +


Boycotts

There is a long-standing boycott of corporations who donate to Planned Parenthood, which is the largest chain of abortion clinics in the world and a major pusher of abortion internationally. Many corporations have stopped donating due to this campaign so far. The full list is scrupulously compiled and updated and therefore copyrighted by Life Decisions International, but a partial list of major donors is on the web.
Recently started by the International Campaign to Abolish Nuclear Weapons and IKV Pax Christi is a boycott campaign of banks that finance the corporations that produce nuclear weapons. They have a "Hall of Fame" set of major banks that have explicit policies not to (and of course local community banks also generally don't), and then a "Hall of Shame" list of banks that do.
Boycotts are best known as refusing to buy or do business with the misbehaving institution, but can also include local picketing, pressure from stockholders, and other creative approaches to reach the consciences of people supporting massive violence.

Calling UK CLE Advocates and Animal Lovers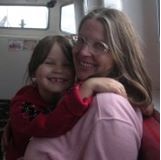 Lesley Dove sends this note: "I have an idea about putting together in London, UK a public event, a fair, in a hired hall, with stalls, and an additional side room with talks/workshops organised, with all aspects of the CLE represented in some way. Groups and individuals taking part on one issue need not necessarily completely agree with all the CLE, but they would need to show an attitude of mutual respect in being part of this event. I would organise vegan food to be sold at the event as animal rights would be represented in addition to CL's issues. I am seeking a few like-minded friends for advice and perhaps assistance. Please contact me if you are interested - lesleyvegandove@gmail.com"

Quotation of the Week
Malcolm Muggeridge, British journalist

Either life is always and in all circumstances sacred, or intrinsically of no account; it is inconceivable that it should be in some cases the one, and in some the other.
To submit a possible item for Peace & Life Connections, or if you believe there is an error, please contact us at Peace & Life Connections.