Spreading the Message
CL has been pursuing an intensive advertising campaign this fall to make more people aware of the Consistent Life Ethic and how it transcends conventional political categories. We have published or will shortly publish ads (see portion of one pictured) in such diverse publications as
The Nation, America, The Mennonite, Prism,
and
The Progressive.
We have already received feedback, some sympathetic and some critical, but we are being noticed.
Help us spread the message further:
share Peace and Life Connections with friends
, follow CL via
Facebook
, or start conversations about the Consistent Life Ethic. Let's get the word out!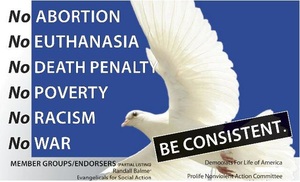 This Year's Call to Action

For several years now we've had an exhibit at the convention of Call to Action, a Catholic group which works on a variety of issues, many of which we have no position on but some of which dovetail with our mission of defending life against different forms of violence.
This year, Lisa Stiller reports "Most of the people I spoke to were very positive. Many said they were glad we were there and glad to see the literature we had that helped to connect abortion to the other life issues. Call to Action is a conference that brings together people from all over the country who support acceptance of gays/lesbians, support women in the hierarchy, including priests, and support priest marriage. The questioning aspect of the conference appears to attract people questioning other aspects of the church, including the stance on abortion. We did have some tough conversations, but ones that we were there to have."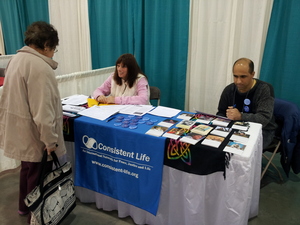 Lisa Stiller and Tony Masalonis staff the table.
+ = = = +

Michael Walli to be named as Peacemaker of the Year

Michael Walli, who attended our 25th Anniversary Conference and is with member group Dorothy Day Catholic Worker, will be honored as Peacemaker of the Year by Pax Christi Metro DC on November 17. Walli is best known for being part of the Transform Now Plowshares group which engaged in a symbolic conversion of the Y-12 Highly Enriched Uranium Materials Facility Oak Ridge, Tennessee on July 28, 2012. He has been arrested about 40 times for acts of nonviolent civil disobedience over the course of a life dedicated to peace and nonviolence. For information on the event, contact Jack McHale, jjmchale@verizon.net or 703-772-0635.

+ = = = +
Quotation of the Week
Gandhi, Non-Violence & Abortion
Pro-Life Humanists
, October 31, 2013
Leftist values that typically include non-violence and support for the weak, seem best suited to pro-life ideology. After all, what is more violent than tearing a young developing human entity limb from limb? How does one oppose war and the death penalty on the grounds of protecting the innocent, while bringing to death a developing being in the earliest stages of human development? . . .
"
Poverty is the worst form of violence
" said Gandhi. And when one considers just how many acts of violence – abortion included – are committed on the grounds of financial and social lack, it's easy to see that the father of non-violence may have been right . . . While the fact that it's wrong to kill a human being to ease financial burdens gives us the moral high ground, we can't simply plant our flag and refuse to consider other life issues like war and poverty that play their role in abortion.