Cool Graphic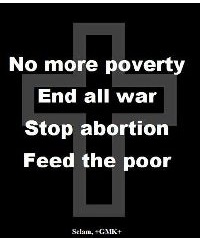 Here's a graphic we like that was created by Gebre Menfus Kidus (Reynolds Wood) and posted by him in the Orthodox Peace Fellowship's (a
CL member group
) Facebook group. He often posts regarding the CLE and its relationship to Orthodox theology. The saying scans well, so it could make a good chant at a CLE witness:
"No more poverty / End all war / Stop abortion / Feed the poor."
+ = = = +
Column in The Observer
Curtis Boyd wrote
a column for his campus newspaper
at Notre Dame after having participated in a Gospel of Life trip to Washington in which the students spoke with many groups working on life issues. CL President Bill Samuel was one of those with whom they spoke. Boyd highlights Consistent Life, and follows with a paragraph on the Catholic CLE tradition.
+ = = = +
Letter to the Editor in the Cleveland Plain-Dealer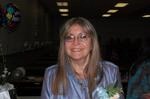 Marilyn Kopp sends in this letter that was published in her local newspaper on November 8. We encourage readers to send in their own published (or good yet unpublished) letters to share; send to
weekly@consistent-life.org
.
ABORTION DOESN'T CONFER EQUALITY
Regarding Alison Gray's Oct. 30 letter ("Put abortion beyond reach of Congress"):
Gray forgets laws already restrict what a woman can do with her body, such as laws against prostitution and illicit drug use.
Before we consider who decides, we must determine what is being decided and whether there are victims or violence involved. Instead of promoting a right to abortion, we should be challenging the conventional wisdom that says that women must violently dispose of their own children in order to be equal.
Whether abortion is legal or not, peace still begins in the womb.
Marilyn Kopp
Kopp is a member of Feminists for Lfe
+ = = = +
Quotation of the Week
Thomas Strahan
"
Studies Suggesting That Induced Abortion May Increase the Feminization of Poverty
"
Feminism & Nonviolence Studies
, 1995
This increased feminization of poverty coincides remarkably closely to the period of increasingly legalized abortion. Arguments have been made that the availability of abortion should help avoid this trend, because job loss due to childbirth would be avoided, as would the burdens of child care which so clearly contribute to povertization. The fact that the pattern has worsened precisely during the period when there was an upsurge in abortions suggests that, at the very least, abortion has been an inadequate solution to this poverty trend.
The causes of the feminization of poverty are varied and complex, as are any solutions. However, experience suggests that, contrary to the above expectations, abortion may instead actually be a contributing factor. Through an increase in broken relationships, psychological difficulties, and substance abuse, a practice which is done exclusively on women may put them at greater economic disadvantage.