+ = = = +

2013 Elections – Kansas City and Albuquerque

Anti-violence activists in two cities got signatures to put initiatives on the ballot this year. One was for no more city financing of a new nuclear weapons plant in Kansas City, and another was to ban abortion past 20 weeks in Albuquerque. Both were "defeated" at the polls.
But participants in social movements aren't power politics players. We don't even begin to have enough power to play, and never will. Social movements will always seem weak, because they're going up against the more powerful – that's what makes them social movements. So the rules differ.
While winning an election is preferable, there are other goals that can be met by getting an issue on the ballot: public education and awareness, and a sense of controversy. Elections provide more opportunities for raising awareness and are good at making clear that an issue is controversial. These goals are met no matter what the electoral outcome. When issues are kept alive, social change on those issues is able to work in unforeseen ways.
+ = = = +
Writing Wrongs
Sarah Degner sends in a resource we may find helpful: an online booklet called "
Writing Wrongs
," a how-to guide for writing letters to the editor. These letters are among the easiest and cheapest methods we have for educating the public. This booklet focuses specifically on opposition to the death penalty, but of course the principles apply to all issues.
+ = = = +
China's War on Women
An organization called "
Women's Rights without Frontiers
" points out an issue on which, as they put it, "Pro-Choice and Pro-Life Activists Agree: Forced Abortion Is Not a Choice." They make an extensive case for how the one-child policy in China is devastating to women, and how the targeting of unborn girls is connected to yet more violence against women.
+ = = = +
From War to Peace
Remember if you decide to purchase holiday gifts of jewelry, etc., made out of disassembled nuclear weapons as offered by
From War to Peace
, you get a 5% discount and Consistent Life gets 20% of the purchase price if you use the code "consistentlife" at checkout.
+ = = = +
With Sadness We Report
We have just learned of the death of
Alison Davis
, prominent in pro-life advocacy in Great Britain against abortion and euthanasia especially from an anti-eugenic and pro-disability-rights perspective. She directed
No Less Human
.
Quotation of the Week
Betty Duganitz, with Feminists for Life, 1992
"Alice Paul Home Declared National Historic Landmark"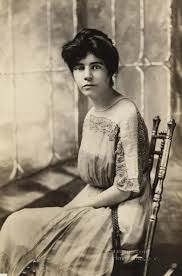 Alice Paul was a determined fighter for equal rights. So determined she spent many harsh months in jail . . . she is remembered by her colleagues for her quiet strength and total commitment to non-violence. This brings us to the incredible story of the dedication of her home . . . Evelyn Samras-Judge, a long-time colleague of Alice Paul . . . was quite eager to attend . . . by rights, she should have been a highly honored guest, but was literally ignored. Why? . . . [She] possesses first-hand knowledge of Alice Paul's pro-life views . . . that "abortion is the ultimate exploitation of women." . . . Ms. Judge was visibly upset at the pro-abortion advocacy in Alice Paul's home . . . As Ms. Judge was leaving, she started to weep, exclaiming that there was no one present who would speak for what Alice Paul stood for -- peace, non-violence and human equality for all.
Interesting to note was that a life-size cutout of Alice Paul kept falling over. Apparently, even she would not stand for it.