Nobel Prize in Medicine for a Crucial Pro-Life Advance
You wouldn't know it from much of the press coverage, but pro-lifers were rooting for Shinya Yamanaka to win a
Nobel Prize
in medicine. The
New York Times reports
the story of when Yamanaka looked at a human embryo in a microscope, "The glimpse changed his scientific career. 'When I saw the embryo, I suddenly realized there was such a small difference between it and my daughters . . . I thought, we can't keep destroying embryos for our research. There must be another way.'"
He found that other way, programing adult cells to act as stem cells.
William Saletan reports
this as a win-win conflict resolution for both sides of the embryonic stem-cell debate.
Finding nonviolent ways to reach worthwhile goals is of course the most effective way of preventing acts of violence of all kinds. His prize was in medicine, but by establishing a nonviolent technique, Yamanaka also promotes peace.
∞ ∞ ∞
Susan B. Anthony's Quaker Background
At the
CL member
group
Susan B. Anthony Birthplace Museum
, located in Adams, Massachusetts, CL vice-president and Quaker Rachel MacNair gave a talk on the Quaker roots of Susan B. Anthony and how these informed her activism for women's rights and the rights of other vulnerable people, such as children both born and unborn. The October 7 talk went well, drawing lively questions. Pictured also are CL Board member Carol Crossed and Kelly Vincent-Brunacini of
Feminists Choosing Life of New York
.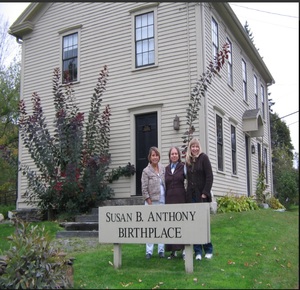 Photo by Cynthia Whitty.
Left to right:
Carol Crossed, Rachel MacNair, Kelly Vincent-Brunacini
∞ ∞ ∞
Global Nonviolent Action Database
Swarthmore professor George Lakey initiated a project with students to create an
online data base
of cases of nonviolent rebellion campaigns. Going back as far as a successful strike in the 12
th
century B.C. in Egypt, there are now over 600 cases. Some are marked on the map below.
Lakey presented this at the recent Peace & Justice Studies Association conference (October 4-6). Rachel MacNair attended and reports: "I asked since in most cases vulnerable people are rebelling against the powerful, what about cases where both sides believe they're advocating for the vulnerable, such as pro-choicers and pro-lifers? I said it that way since in that venue there would be many knee-jerk abortion defenders. He was positively enthusiastic about including cases for pro-lifers, saying he knows conflict is inevitable but that carrying it out nonviolently was the way to go. So this would be a good place to add the many pro-life cases."
Since there is a specific format for the cases, and it would be good to coordinate, anyone interested in helping on such a project can contact Rachel at
weekly@consistent-life.org
.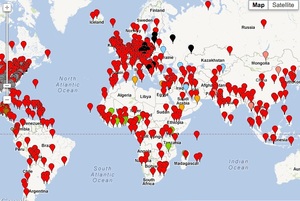 ∞ ∞ ∞
Quotation of the Week
The Revolution, July 8, 1869
(Susan B. Anthony's publication; author not named)
"Women are educated to think that with marriage their individuality ceases or is transferred to their husbands. The wife has thenceforth no right over her own body. This is also the husband's belief, and upon which he acts. . . Guilty? Yes, no matter what the motive, love of ease, or a desire to save from suffering the unborn innocent, the woman is awfully guilty who commits the deed. It will burden her conscience in life, it will burden her soul in death; but oh! thrice guilty is he who, for selfish gratification, heedless of her prayers, indifferent to her fate, drove her to the desperation which impelled her to the crime."