Bad News: Comment on Trayvon Martin Killer's Acquittal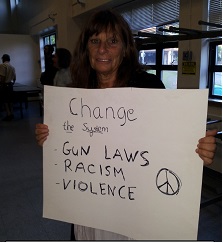 Martin Luther King, Jr commented, "When machines and computers, profit motives and property rights are considered more important than people, the giant triplets of racism, materialism, and militarism are incapable of being conquered." The triplets were at work in this case. Racism is the most obvious; it seems likely that Zimmerman perceived Martin as a threat because he was a young black man. Materialism? This incident occurred in a gated community, where those who have try to wall themselves off from those who have not. As for militarism: Stand Your Ground laws represent the institutionalization of militarist ideology at the personal level. The "solution" to problems is to kill someone who represents the problems.
The CLE stands against these paradigms. The importance of these broad paradigms is why we include racism and poverty in our key issues. To address wrong thinking prevalent in society obviously requires a multi-faceted strategy of which things like legislative changes only represent one small facet.

Pictured: CL Board Member Lisa Stiller

Good News: Beautiful Story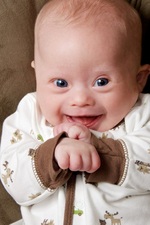 Once the couple found out their unborn child had Down Syndrome, like around 90% of such pregnancies in the U.S., they had in mind to abort.
Their priest tried to
talk them out of it by suggesting they place the baby for adoption instead. They told him they would if he could find a family in just one day – the mother was already almost at 24 weeks and they understood that was the deadline for abortion in their state. So he put out word on his parish's Facebook page, and it spread from there – and got hundreds of offers! A true outpouring of love, love great enough to take on the job of raising this child.
Actually, in the United States, there are long waiting lists for adopting children with Down Syndrome, so parents of an unborn baby with Down syndrome shouldn't worry about finding a home for the baby if they choose adoption.
Pictured: Baby Noah by proud papa

Evangelicals for Social Action

Generally the reception to our consistent-life message at the ESA Conference was very favorable. Our ad which appeared in the special issue of PRISM included in the Conference attendee bag also appeared in reduced size on the back of the Conference agenda. In addition, it appeared on the large screen in the main meeting room as part of the rotation of announcements. Our banner was hung from the balcony overlooking the foyer in front of the entrance to the main meeting room. This was in addition to our one-pager in the attendee bag.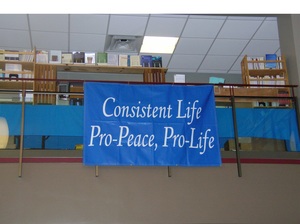 + = = = +
Quotation of the Week
Nicholas T. Wright, former Anglican Bishop of Durham, England
(and author of several books as N.T. Wright)
September 15, 2011,
Washington Post blog
You can't reconcile being pro-life on abortion and pro-death on the death penalty. Almost all the early Christian Fathers were opposed to the death penalty, even though it was of course standard practice across the ancient world. As far as they were concerned, their stance went along with the traditional ancient Jewish and Christian belief in life as a gift from God, which is why (for instance) they refused to follow the ubiquitous pagan practice of "exposing" baby girls (i.e. leaving them out for the wolves or for slave-traders to pick up).
Mind you, there is in my view just as illogical a position on the part of those who solidly oppose the death penalty but are very keen on the "right" of a woman (or couple) to kill their conceived but not yet born child.