Follow-Up on Down Syndrome
As a result of
last week's story
on the Down Syndrome baby, subscriber Shelley Douglas alerts us to a piece in the
July 15-22 issue of America
magazine (scroll down to page 22) by Joey Kane, discussing how he lives with Down Syndrome.
Follow-Up on the Trayvon Martin Case
Last week,
we offered a view
of how this case relates to CL issues. Some of us were unhappy with the verdict and joined our voices with the many protestors of the outcome. We received several comments and we're delighted that our readers are engaged. Several commenters challenged our take as biased. (As consistent-lifers, we certainly know about media bias in reporting.) We would like to clarify the purpose of last week's piece.
Comments were made on our guess at the motivations of the accused. These are well taken. Neither we nor a jury nor anyone can read a person's mind. There's also debate about the relevance of "Stand Your Ground." True, it wasn't explicitly used in court, but was implied in the jury instructions and at least one juror says she relied on it.
Arguing the facts of a specific case is beyond our purview. We meant to show the broader connections between this tragedy and other life issues. We know it brought up painful memories, as seen in President Obama's press conference and CL President Bill Samuel's
personal reflections
. Racism expressed as a result of the case was also widespread (
see example
). The chart below, from PBS's
Frontline
, shows what's happening in the U.S. system-wide with "Stand Your Ground" laws: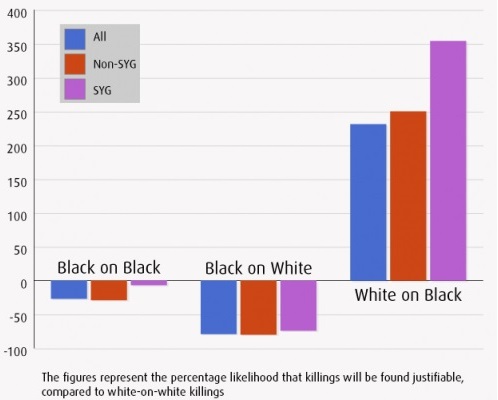 The widespread protests that ensued this past week may do more to deter future racist incidents than a guilty verdict would have. Our society has a serious need to move beyond toxic racism, which hurts
everyone
.
See also the
statement of the Mennonite Church
, an
officially consistent-life
church.
+ = = = +

And Another Issue-Connecting Perspective on the Case

This comes from Mike Rivage-Seul, a liberation theologian and emeritus professor of peace and social justice, commenting on Obama's press conference in which Obama expressed identification with Trayvon Martin: "Ironically, the Stand Your Ground, shoot-first attitude happens to be a key element of Mr. Obama's own drone program . . . its "signature strikes" have been responsible for the deaths of at least 221 totally innocent dark-skinned children who happened to be nearby when Mr. Obama chose to fire his own weapon at those merely suspected of being or associating with 'terrorists.' In effect, all of those children . . . would be alive today had they not been in the wrong place at the wrong time when a man with a weapon perceived a threat from a profiled target."

+ = = = +
Quotation of the Week
Helen M. Alvaré and Meg T. McDonnell:
"Why pro-lifers keep fighting abortion,"
Washington Post Opinion
, March 1, 2013
What can explain the fact that the pro-life movement is "not dead yet"? For starters, science and technology have been very good to us over the past several decades. Embryology, genetics, neurology, not to mention ultrasound technology — they are probably responsible for the fact that none of the abortion-rights Web sites bothers any longer to attack the humanity of the unborn child.
Second, the human rights nature of the abortion debate just never gets old. . . The unborn child is vulnerable and dependent. Evolving standards of decency compel us to treat the vulnerable with particular care.