Get clothing, buttons, bumper stickers, magnets, mugs and cards promoting a consistent life ethic at the CL Online Store


Loading




Peace & Life Connections #172
August 9, 2013
Life Matters Journal – Latest Issue Now Out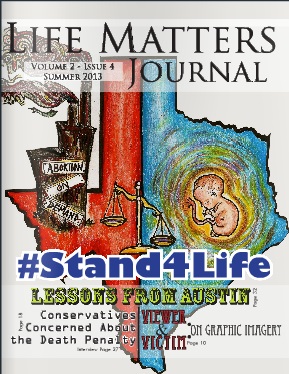 We now have
issue 2, number 4
online. Articles from CL board members include John Whitehead on the ongoing struggle over Guantanamo Bay, Nick Neal on "Viewer and Victim," dealing with graphic imagery, and Rose Evans on human rights in "Peripheral Matters: Kissing Cousins." Journal editor Aimee Murphy regales us with her #Stand4Life action lessons with the Texas legislature. A couple of articles address conservatives against the death penalty, and there's an essay on the military draft. There are reflections on the recent
Star Trek
movie, and a short story.
Peace Psychology Outreach
Rachel MacNair is serving a presidential year in Division 48 – peace psychology -- of the American Psychological Association. As such, she got to deliver a speech on August 1 at the APA annual convention to a roomful of division members. Addressing outreach and education, she talked about different constituencies. In addition to those normally thought of – children, activists, religious groups – she proposed "unusual outreach" with opportunities for persuasion with
libertarians
, anti-war conservatives like Pat Buchanan who distinguishes between
"defense" spending and "empire" spending
,
anti-death penalty conservatives
,
anti-drone conservatives
, and pro-lifers. She then mentioned that there's already a peace constituency in the pro-life movement, called the consistent life ethic. She even showed a
photo of her holding our banner
at the March for Life and indicated that was her. The speech finished with a rousing ode to what peace psychology has accomplished. It was, as Rachel said at the beginning, a speech which was quintessentially her.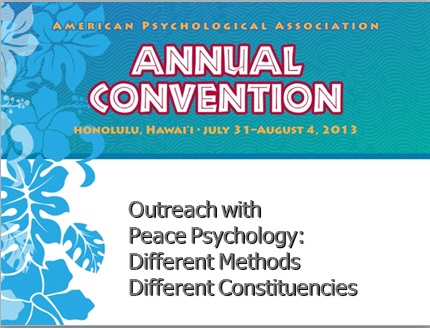 The question-and-answer period went well, and mainly focused on other aspects. One woman did comment vociferously that Division 48 shouldn't be moralizing by being involved in abortion at all (Rachel
has appointed task forces
on weaponized drones, the death penalty, and abortion). Rachel told her she was heard and went on to the next question. Several people did comment that it was a good speech, meaning the pro-life part didn't arouse much opposition.
Japanese Official Causes Outrage
Here's an interesting connection between militarism and euthanasia, as reported in the
Huffington Post
: Japan's Deputy Prime Minister Taro Aso is reported as being "gaffe-prone" in support of both. He's claiming that Japan could learn from Nazi tactics; the Simon Wiesenthal Center suggested in response that the only thing to learn from the Nazis was what shouldn't be done. Aso suggests these tactics for constitutional reforms to the U.S.-imposed non-military constitution, allowing for a "full-fledged military force" amid tensions with China and South Korea. He tops this off with the suggestion that old people should "hurry up and die" to save money for the medical system. Fortunately, those remarks were treated the same as the learn-from-Nazi-tactics one: evidence that this man is known for his "uncomfortable remarks."
+ = = = +


Quotation of the Week
Julianne Wiley
Consistently Opposing Killing, Chapter 12, Activists Reminisce: An Oral History of Prolifers for Survival

Editor's note: On the occasion of the anniversary of the atomic bombing of Nagasaki, the last time nuclear weapons were deliberately used to kill large numbers, in the hope that it remains the last time.

To me nuclear weapons and abortion were perfect bookends, symmetrical images of each other. They both involved a frank commitment to targeting innocent targets, and they both depended on the calculated willingness to destroy them deliberately. . . . The two issues struck me as being so absolute they set up a kind of a north and south pole, a whole magnetic force that drew in a lot of other issues because of the clarity of those two.
To submit a possible item for Peace & Life Connections, or if you believe there is an error, please contact us at Peace & Life Connections.