Get clothing, buttons, bumper stickers, magnets, mugs and cards promoting a consistent life ethic at the CL Online Store


Loading




Peace & Life Connections #173
August 16, 2013
Wild Goose Festival

We had a table at the Wild Goose Festival; an article entitled "The Family Reunion of Theological Misfits" gives us a passing mention and explains more of what the festival is about. It was staffed by CL Board member Lisa Stiller and President Bill Samuel (pictured – more photos on Facebook). Lisa reports: "It was an awesome experience! Very friendly people, people really were there to engage in conversations." Bill reports: "This experience gave me some insights into what audiences are likely to be receptive. Sometimes seemingly logical audiences are not receptive. Patrick [O'Neill] told me that our material was not well received at the WRL [War Resisters League] conference. One might think that WRL would be a natural audience for an expansive view of nonviolence, but it isn't, presumably because those folks are often tied up into an ideology which they are not ready to question. At Wild Goose, folks aren't happy with the typical boxes into which our society groups people, and so it was a positive that we don't fit those boxes."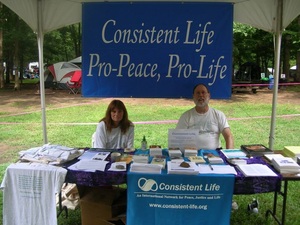 U.S. House Candidate

We don't make candidate endorsements, but we do pass on information about candidates, especially when they contact us. Paul Coyne is running for the Democratic nomination in the 24th Congressional District of Congress and has written us about his candidacy. He states he supports all of our positions. He has a link to our Web site on his campaign Web site.

Thoughts on the Web

· CL member group Feminists for Life is running a series of stories of conversion to the pro-life cause. One interesting one is of Sharon Long, CL member who was at our 25th Anniversary conference and attended with our contingent at the Open Minds, Open Hearts conference.

· In "A Liberal for Life" by Mike Cummings, he says "Like the homeless, the unemployed and the poor, [the unborn] are disenfranchised, powerless, unable to speak for themselves." In considering whether the fetus is human, he offers the analogy of a hunter in the woods who thinks maybe he's shooting a deer but doesn't know the rustling in the bushes isn't a human being.





+ = = = +


Quotation of the Week

The Onion (a satirical comedy publication)
"Lethal Injection Ban Leads to Rise in Back-Alley Lethal Injections"
October 24, 2007

To all outward appearances, "Kevin" is a typical Southern state governor. He enjoys vetoing bills, attending ribbon-cutting ceremonies, and hanging out with friends. But the recent suspension of lethal injections in 10 states has put Kevin's political life in serious jeopardy. Unable to wait for the U.S. Supreme Court to determine whether the practice constitutes cruel and unusual punishment, Kevin, like many young governors who find themselves saddled with an unwanted death row inmate, has been forced to take desperate action and obtain an illegal back-alley lethal injection. . . . "The reality of the situation is that you can't legislate lethal injections away," Blecker said. "If governors can't inhumanely execute prisoners legally in prisons, they're going to turn elsewhere for the procedure. More often than not with tragic results."
To submit a possible item for Peace & Life Connections, or if you believe there is an error, please contact us at Peace & Life Connections.